Structure & Content
WU's MSc Marketing program will provide you with theory-based knowledge and methodological skills with a strong practical orientation.
Our comprehensive curriculum prepares you for the dynamic and technologically innovative nature of contemporary marketing activities, so that you will succeed in creating cutting-edge marketing solutions.
Day 1 MSc Marketing - follow us around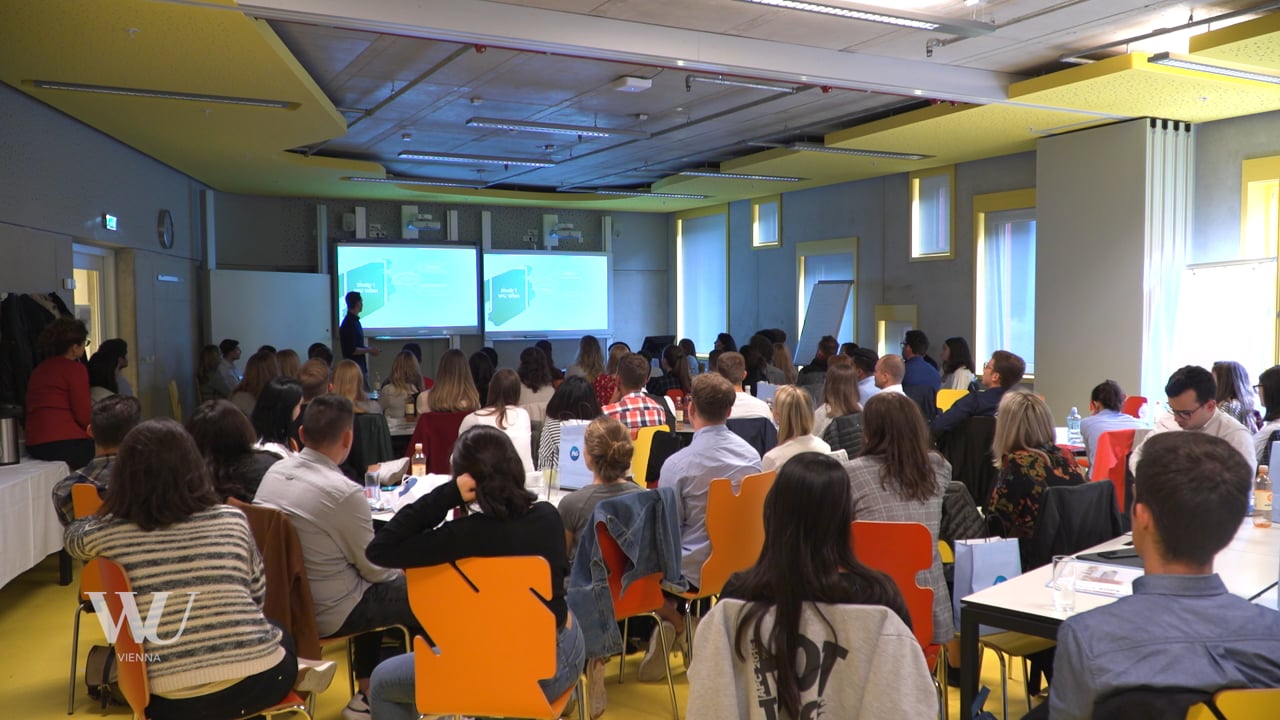 If you want to learn more about our MSc Marketing community (social activities, business events, students' achievements) please check our news page.
Program Structure
The MSc Marketing is a demanding full-time, 4-semester program with a fixed schedule. It starts only in winter semester and courses are campus-based.
Courses of the 1st and the 3rd semester are only offered during winter semester; courses of the 2nd and the 4th semester are only offered during summer semester. For detailed information on the courses please use our course catalog.
First year
In your first year, you develop an in-depth understanding of marketing and learn how to apply key research methods. You gain knowledge in the areas of consumer behavior, marketing strategy, business models, and digital marketing. Personal development courses complement the curriculum of the first year.
1st Semester – Foundation
2nd Semester – In-depth Knowledge
Second year
In your second year, you can choose electives across three areas of specialization: Current Challenges in Digital Marketing, Marketing for a Better World, and Advanced Topics in Marketing. Most electives are joint projects with companies, thus offering you the opportunity to apply your theoretical knowledge and to come up with your own real life business solutions. Alternatively, the program's flexible structure allows you to spend the third semester at one of WU's 140 partner universities.
Year 2 concludes with the final course Marketing 360 degrees (organized in cooperation with national and international corporate partners) and with your master thesis.
For selected students we provide the opportunity to join our double degree program with Bocconi University in Milan, Italy (5 slots available each year). Students who pursue the double degree program spend their 2nd year at Bocconi (2 semesters) and upon successful completion are awarded both degrees.
3rd Semester – Specialization: mix & match your electives OR go on exchange semester
Brochure & Curriculum MSc Marketing
Brochure_MSc_Marketing_2023.pdf
Curriculum Master's Program in Marketing (as of study year 2021/22 and cohort 10)
Old Curriculum Master's Program in Marketing until study year 2020/21 and cohort 9
Experience our classrooms
Modern teaching methods and small classroom sizes are essential to ensure high quality learning outcomes. Our faculty team provides a supportive and collaborative classroom experience that prepares you to succeed in real-world marketing challenges. Furthermore, our classrooms feature state-of-the-art equipment and an internet-based learning platform that helps you track your progress and in-class performance.
Learn more!
Application & Admission