Go Global
Go Global 2019
Are you interested in spending an exchange semester abroad?
The Go Global exchange fair is a unique opportunity for WU students interested in going abroad to get practical, first-hand information and useful tips on all aspects related to a successful stay abroad.
When?
October 21, 2019
11.00 am to 3.00 pm
Where?
Library & Learning Center
on Campus WU
Forum, Ceremonial Hall 1 & 2, Gallery
Get your own info booth
Register here from September 1 if you want to represent your home university or already had a fantastic semester at one of WU's partner universities or are currently spending your exchange semester at WU and would like to share your experiences with future outgoing students. The best booth will be awarded a prize!
Registration period: September 1 - October 14, noon
Program
At the same time, presentations will be given in the LC building in Ceremonial Hall 2 and the Gallery. All presentations on your exchange possibilities during your studies will be held in English.
When
Where
What
Who

to
12:30pm
11:00am
Ceremonial Hall 2
Exchange programs for bachelor's students & International Summer Universities

Julia Fischill
Sarina Gludovatz
International Office
Christiane Dietrich

to
12:00pm
11:00am
Gallery
Exchange programs for master's students

Claudia Grafenhofer-Truppe
International Office
Katrin Korber

to
1.30pm
1.00pm
Ceremonial Hall 2

(Bachelor & Master)
The perfect motivation letter for your exchange experience

WU ZBP Career Center
Bianca Bauer

to
2.30pm
2.00pm
Ceremonial Hall 2

(Bachelor & Master)
Credit transfer after your semester abroad

Study Regulations & Credit Transfer Office
Andreas Batthyany
Students who would like take part in an exchange program with WU's International Office in order to gain international experience can choose from a range of 240 partner universities on 6 continents. So take this unique opportunity at Go Global 2019 to find out about all your options of going abroad!


The International Office team is happy to answer any further questions you may have
about Go Global at goglobal@wu.ac.at
We are looking forward to seeing you at Go Global 2019!
Please note: During the event we will be taking pictures and videos which may be used on the International Office's Social Media channels, on WU's website, and print media (reports, etc.). If you do not wish to be photographed, please approach us at the event to let us know.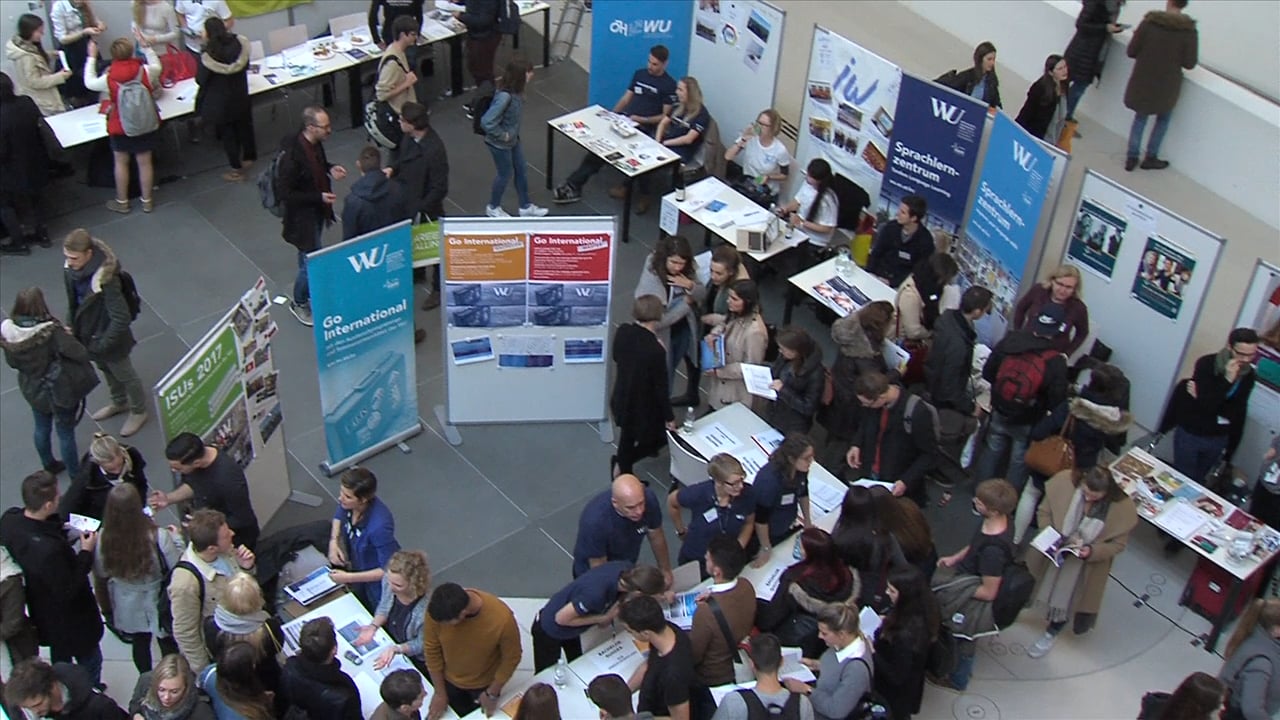 Go Global 2018
Show more
Review
Organized by the International Office, WU's exchange fair Go Global was once again a huge success. Despite the bad weather, a large number of visitors participated in the fair and took advantage of the broad consultation offer. Almost 200 international students and former outgoing students represented their home or host universities at over 90 different booths and shared their experiences with attendees interested in studying abroad. External exhibitors, such as AIESEC, the Austrian Study Grant Authority, the British Council, and the U.S. Embassy in Vienna informed students about relevant topics around their exchange semester. The representatives of Universitas Gadjah Mada won the Best Booth Award for their particularly creative ideas and beautifully decorated booth. Some of the event's highlights were the diverse presentations on how to successfully write a motivational letter (Johanna Hiebl, WU ZBP Career Center), credit transfer after a semester abroad (Andreas Batthyány, Study Regulations and Credit Transfer), and WU's exchange programs and International Summer Universities for bachelor's and master's students. Two former exchange students, Molinda Chhay and Dorian Aigner, shared their experiences abroad; Molinda participated in the ISU China (Tongji University) in summer 2018, and Dorian spent the summer semester 2018 in Sofia, Bulgaria (University of National and World Economy).
The International Office would like to thank everybody involved for their valuable contribution and is already looking forward to Go Global 2019!