Why WU
What makes us special
Future oriented and employee focused. WU is both: WU is a supportive employer that gives you the opportunity to realize your potential.
On the cutting edge: An inspiring environment for enthusiastic people who care about tomorrow.

A clear vision: We are committed to fairness, inclusion, and responsibility in how we deal with each other.

There's more in it for you: A good balance between work and private life, with great flexibility and benefits

A vibrant campus: Unique architecture and attractive campus life

At the heart of Vienna: A central, green location in the world's most livable city
Over 2,400 employees and about 21,500 students from around the world. All of them working together to shape the future and make a difference with their enterprising spirit and motivation.
think:impact
Join the minds that shape the future
Your benefits
Your benefits
Your benefits
Overview
Click here for an overview of all benefits
Select a benefit for the detailed description
Onboarding and in-house continuing education
Getting off to a good start
Our well-structured onboarding program helps you get to know the ropes in your new job.
Your individual development
Our targeted in-house continuing education program will help you develop both personally and professionally. In addition to special career programs, numerous funding opportunities are also available for our researchers. In addition, we offer German language courses to help our international colleagues improve their German skills.
Employee discounts and pension plan
Your WU staff ID card
With your WU staff ID card, you are entitled to a wide range of discounts on products and services at pharmacies, fitness studios, restaurants, opticians, thermal spas, hotels, insurance providers, and more.
Pension fund
If you work for us for over 2 years, we will pay contributions into a pension fund retroactively from the start of your employment.
Health and fitness
Well-Being@WU
Your health is important to us. Our occupational health program includes measures such as reintegration management after longer periods of sick leave, healthy leadership initiatives, and numerous seminars and workshops on exercise, balanced nutrition, and mental health. In 2020, WU was awarded occupational health certification from Österreichisches Netzwerk BGF, the Austrian network for promoting occupational health.
In-house medical officer
WU's occupational physician's office is available to all employees to answer any questions you may have about staying healthy at work, as well as for vaccinations, physical examinations, physical therapy, and massages.
USI athletics courses
Employees can sign up for athletic courses and activities offered by the University of Vienna's Universitätssportinstitut (USI); many of these activities take place directly in the on-campus athletic facilities.
WU Health Day
An annual Health Day is organized in cooperation with health insurance provider BVAEB, focusing on a variety of health-related topics.
Employee reintegration management
When returning from an extended period of sick leave, employees can request support from our specially trained reintegration team if needed, to help them get back on their feet in the workplace.
Counselling services for employees in difficult circumstances
Free, anonymous counselling services are available if you find yourself in a highly stressful or difficult situation.
Conflict counselling
Should you ever be confronted with conflict situations or feel bullied or harassed in the workplace, you can request a consultation with external experts free of charge.
Ergo coach and first aid provider training
WU offers its employees training as ergo coaches and first aid providers on a voluntary basis.
Food and drink
Food vouchers
Employees receive food vouchers for the restaurants and cafés on campus each semester (provided by WU on a voluntary, non-compulsory basis; no legal claim is given).
On-campus hospitality
You can choose from a variety of restaurants, a cafeteria, a supermarket, and a bakery on campus.
Free drinks
Still and sparkling water, tea, and coffee are available in the employee lounges free of charge.
Balancing work and private life
Flexibility in working hours and location
You can arrange your working hours flexibly thanks to our flexitime agreement and various part-time models We also offer mobile working opportunities and loosened requirements for working on-site.
Sabbaticals
A career break in the form of a sabbatical can be arranged in agreement with your supervisor.
Childcare on campus
The organization "Kinder in Wien" (KIWI) runs a childcare center directly on the WU campus.
Childcare services during school breaks
If you have children between the ages of 6 and 12, you can sign them up for childcare when school's out for the summer. Organized in cooperation with KiWi.
A family-friendly employer
WU has held hochschuleundfamilie certification since October 2013, confirming its status as a family-friendly university. As part of the auditing program, new services and measures to make it easier to balance work, academic studies, and family life are developed on a continuous basis.
Motherhood and fatherhood
As a family-friendly employer, we encourage active fatherhood in addition to maternity-related leave.

Mobility and location
Well connected to public transportation
Campus WU is located only a short walking distance from 2 major subway stations on the U2 subway line (Messe-Prater and Krieau).
Biking to work
There are 1,000 bicycle parking places around the perimeter of Campus WU, including secure bicycle garages for employees. There are also Citybike bicycle loaning stations located near the subway stations.
Driving to work
An underground parking garage beneath the campus provides both long-term and short-term parking.
Barrier-free accessibility
WU aims to be a living, working, and learning space for all its faculty, staff, and students. Wheelchair spaces in all auditoriums, audio induction loop systems for people with hearing aids, and orientation and guidance systems for people with vision impairments are just a few of the many barrier-free accessibility features on campus.
Near Prater Park
Campus WU is located immediately adjacent to Prater, a large public park offering a wide range of restaurants and recreational and athletic opportunities.
Working and living in Austria
Remuneration
Attractive remuneration (13th and 14th salary, income tax and social security contributions as well as 5 or 6 weeks of paid vacation included), possible tax benefits at post doc level and above (immigration benefits).
Living in Austria
Not just Vienna, but also Austria in general is known for its high quality of life. In addition to often comparatively moderate rents, free schooling, and extensive cultural opportunities, residents can enjoy nature and outdoor recreation both in the city and in the countryside.
Welcome Services
Giving a warm welcome to colleagues from abroad is very important to us. We support international employees and visiting researchers even before they arrive in Austria to make sure they get off to a good start in Vienna and at WU. We are also available to support and assist you during your teaching or research stay at WU because we want you to feel comfortable and at ease in your new academic and private environment: welcomeservices@wu.ac.at.
Students looking for advice and support can contact the Admissions office or the International Office.
Additional services and offers
We want to know what you think!
WU conducts employee surveys on a regular basis and uses the results to develop various measures and initiatives.
Green Buddies
The Green Buddies and their events are aimed at everyone who wants to actively support environmental protection at WU and create awareness of environmental issues.
Employee events
We encourage our employees to network and socialize by organizing events such as WU-wide field trips, a holiday party, our Summer Celebration, and athletic events.
Working at the WU
Responsibility
We are committed to justice and social equality, diversity, and open-mindedness.
Read more
think:impact: Our work makes a difference
WU employees highlight the impact of their work.
Mehr erfahren
Frequently asked questions
What documents do I have to submit to make sure that my application is complete?
Can I submit a speculative, general job application?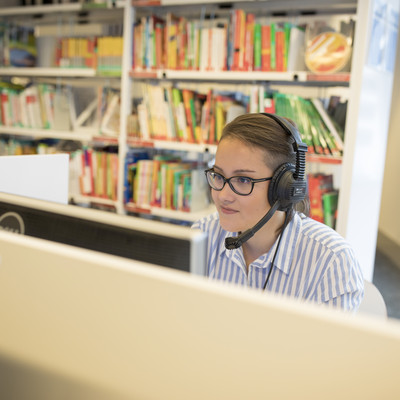 Ask your question
Get in touch with our recruiting team.
* Required fields are marked with an asterisk (*).