Giuseppe Delmestri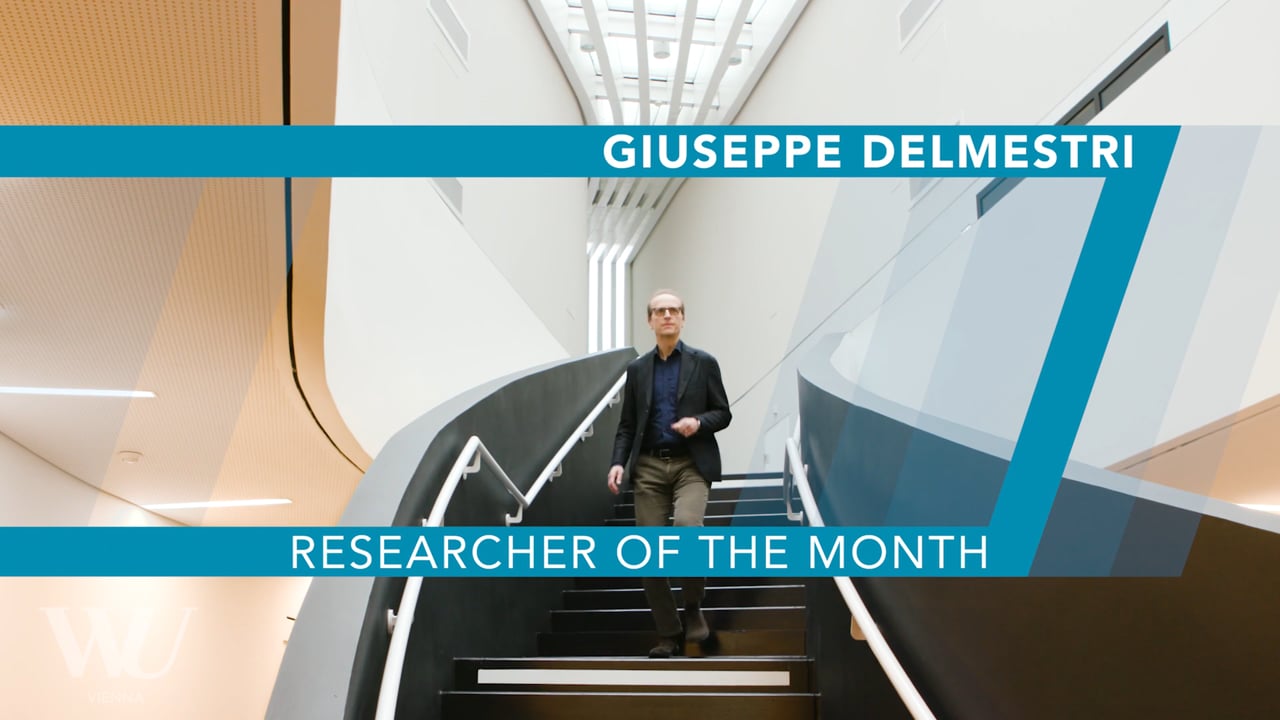 Giuseppe Delmestri
Researcher of the Month
The 'Monsters' of Venice: Why we still see cruise liners in the Venetian Lagoon
In the fall of 2019, the public debate about whether large cruise liners should be banned from Venice boiled up again, following some problematic incidents. Countermeasures were considered, but despite massive criticism from politicians, NGOs, and citizens, there are still cruise ships in the Venetian Lagoon today. In a recent study, WU Professor Giuseppe Delmestri and his co-authors Claudio Biscaro and Mia Raynard investigated the factors behind this state of affairs. The study was published in the Academy of Management Proceedings and nominated "Best Paper".
Over the last few years, the strong waves caused by large cruise liners entering Venice via the Giudecca Canal have become a massive problem for the lagoon city. Ships have crashed, docks have been damaged, and people have been injured. Aside from these incidents, environmental organizations have been arguing for many years that the cruise ships are also threatening the delicate ecosystem of the Venetian Lagoon. Even though politicians, including Venice's mayor, have called for tough countermeasures, the ships are still cruising on the lagoon today, attracting passengers with the promise of unique views of St. Mark's square.
Industry and politics trading favors
Giuseppe Delmestri and his fellow researchers from WU's Institute for Change Management investigated the underlying dynamics of these processes and analyzed their causes based on social exchange theory. As Delmestri explains, "Our analysis shows that what we're seeing is primarily a form of social exchange: Problems caused by cruise liners in Venice create public debate and criticism. In response, the cruise companies support the city in solving certain isolated issues. As a result, politicians feel indebted to the companies and, in turn, are ready to make concessions to them."
Concessions to cruise industry in return for stewards on St. Mark's square
The study by Delmestri, Biscaro, and Raynard highlights the workings of this reciprocal exchange between industry and government: The cruise industry voluntarily agreed to curb the pollutants of the fuel used within the Lagoon to appease environmental concerns. One of the cruise companies also sponsored a team of stewards to help coordinate the flow of tourists on St. Mark's square. These activities were intended to support local police, who had been very busy maintaining order among the tourists visiting Venice. The local authorities applauded these activities on the part of the cruise companies and the mayor became receptive to the industry's demands.
Compromises that fail to change the status quo
Despite massive calls to ban cruise liners from the Venetian Lagoon and redirect them to a cargo port outside the city, all the debates did not lead to any substantial changes. "There were plans to reduce the traffic of particularly large cruise liners by a third and to partially reroute the ships to other ports," Delmestri points out. "By sacrificing a part of its revenue and offering support to the local government, however, the cruise industry successfully avoided a cruise ship ban on the passage to Piazza San Marco through the historical city center." Despite small cutbacks, Venice is largely keeping its port open to the big cruise liners. "Not only Venice but also other UNESCO sites and the natural environment are threatened by such dynamics," Professor Delmestri points out. "Our analysis shows how easy it is for large industries to influence political decision-making if politicians aren't a hundred percent firm and clear in their positions. Citizens should be wary of such 'compromises' and ambivalent political statements."
About Giuseppe Delmestri
Giuseppe Delmestri is a native of Italy and works as a full professor at WU's Department of Management. He studied business administration at Bocconi University in Milan, specializing in organizational studies and HR management. After gaining business experience as a marketing executive at Fabbri Publishing in Hamburg, he resumed his academic career in 1992 at Bocconi University's Institute for Organizational Studies, where he worked as an assistant until 2004. He then moved on to become an associate professor of organizational studies and human resources at the University of Bergamo, where he founded and headed the university's executive academy. In 2011, Delmestri was appointed professor of organizational studies and global business at JKU Linz. In 2014, he became a full professor at WU, where he is now head of the Institute for Change Management und Management Development. Delmestri is also a member of WU's Competence Center for Sustainability Transformation and Responsibility (STaR). His main research interests are organizational change and change management, the strategic positioning of organizations and market categories, branding and organizational identity, and the relationship between social movements and organizations (e.g. regarding veganism, climate justice, and mobility). In his research, he also addresses topics related to ethics in business and science. Delmestri is a co-founder of OS4Future and Adventerra Games and member of Scientists4Future and Scientists4XR. He also acts as an advisor to private, public-sector, and social organizations. Among other distinctions, he received Bocconi University's Award for Research Excellence and won an Emerald Literati Award for Excellence in the category "Outstanding Author Contribution" in 2018.
Researcher profile