Miya Komori-Glatz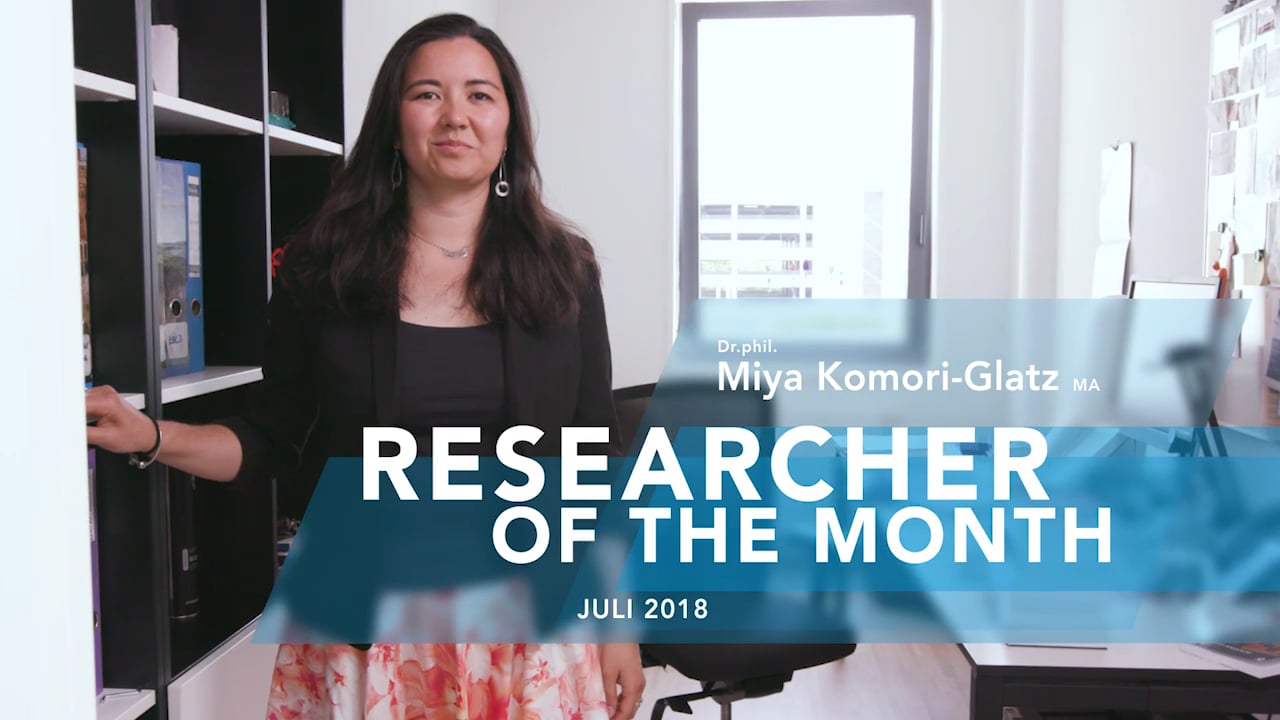 Miya Komori-Glatz
Researcher of the Month
English as a business lingua franca: from the chatroom to the boardroom
As businesses in German-speaking countries become increasingly international, the topic of English as a lingua franca is also attracting ever more attention. Changing the corporate language is more difficult, and more complex, than it might seem. Miya Komori-Glatz, of the Institute for English Business Communication, studies English as a lingua franca in multicultural teamwork and the implications of introducing a foreign language in the workplace. Her research reveals that the change to English is not easy, but it opens a window on the world.
Working in international teams, travelling the globe, speaking multiple languages – for many people today, this is the norm. But working in a foreign language such as English is not easy for everybody. "Changing the working language from German to English is a major step and difficult for many employees," says Miya Komori-Glatz, a researcher at the Institute for English Business Communication at WU Vienna. "Introducing English as a common corporate language requires careful planning. The consequences – and the costs – of language-based problems in a company can be severe."
Developing a common language as the path to success
Komori-Glatz' research combines perspectives from business and linguistics to develop a framework that highlights common issues and potential problem areas when implementing English as a corporate language. "The most important thing is to ask whether information is reaching all your employees and where language may be blocking information flows," says the researcher. Communicative competence in English – or the lack thereof – has considerable implications for an employee's position in the company's power structures. "At the same time, multicultural teams can develop their communication jointly," claims Komori-Glatz, referring to her own study, where she observed and interviewed multicultural student teams working in English as part of their master programme at WU. She found that, over time, the groups developed a shared repertoire of technical and team-specific vocabulary as well as more general communicative practices, strengthening their own learning processes and a common team identity. "They not only adapted what they said, but also how they said it," Komori-Glatz reports. "When teams make an effort to find ways of achieving smooth and inclusive communication, they are also making a major contribution to achieving their joint goals."
From the chatroom to the boardroom
However, keeping all communication channels open – between colleagues or management hierarchies or across a multinational concern – is a challenge. The key is to remain flexible and aware of how language can cause barriers. "Only issuing information in English doesn't always make sense – especially if there's a range of proficiency levels across the company. If managers want to keep information flowing between employees – from the chatroom to the boardroom – it's essential to remain flexible and find the language, or languages, that will be most effective to encourage those information flows. This might mean continuing to offer certain information in German to prevent employees missing out on key information or to avoid the creation of shadow hierarchies," says Komori-Glatz. "At the same time, it's important to ensure that new colleagues are not excluded by using the local language."
Language as a challenge and an opportunity
Establishing a common corporate language requires having a well thought-out policy: where, with whom, and why should English – or other languages be spoken? Implementing a new company language is highly resource-intensive. Multilingual employees are often used as language "nodes" to facilitate communication across language boundaries, which can lead to the development of shadow hierarchies and unsustainable levels of dependence on certain individuals. Yet a shared language makes it possible to gain new insights and take advantage of a wider range of resources. Multilingual employees taking on the role of language nodes also have access to information through formal and informal channels, and often thus have a competitive advantage. "Adaptability is key, and our graduates are expected to be able to use language(s) flexibly and competently. As an university, we give them the communicative skills to do so."
Links:
Komori-Glatz, Miya and Schmidt-Unterberger, Barbara. (2018) English-medium business education: creating the international managers of tomorrow, today?In: Sherman, Tamah & Jiří Nekvapil (Eds.), English in Business and Commerce: Interactions and Policies. Berlin: Mouton de Gruyter, 310-334.
Komori-Glatz, Miya (2018) Conceptualising English as a business lingua franca (BELF). European Journal of International Management 12(1/2), 46-61.
Komori-Glatz, Miya (2017): (B)ELF in multicultural student teamwork. Journal of English as a Lingua Franca 6(1), 83-109.