Jonas Puck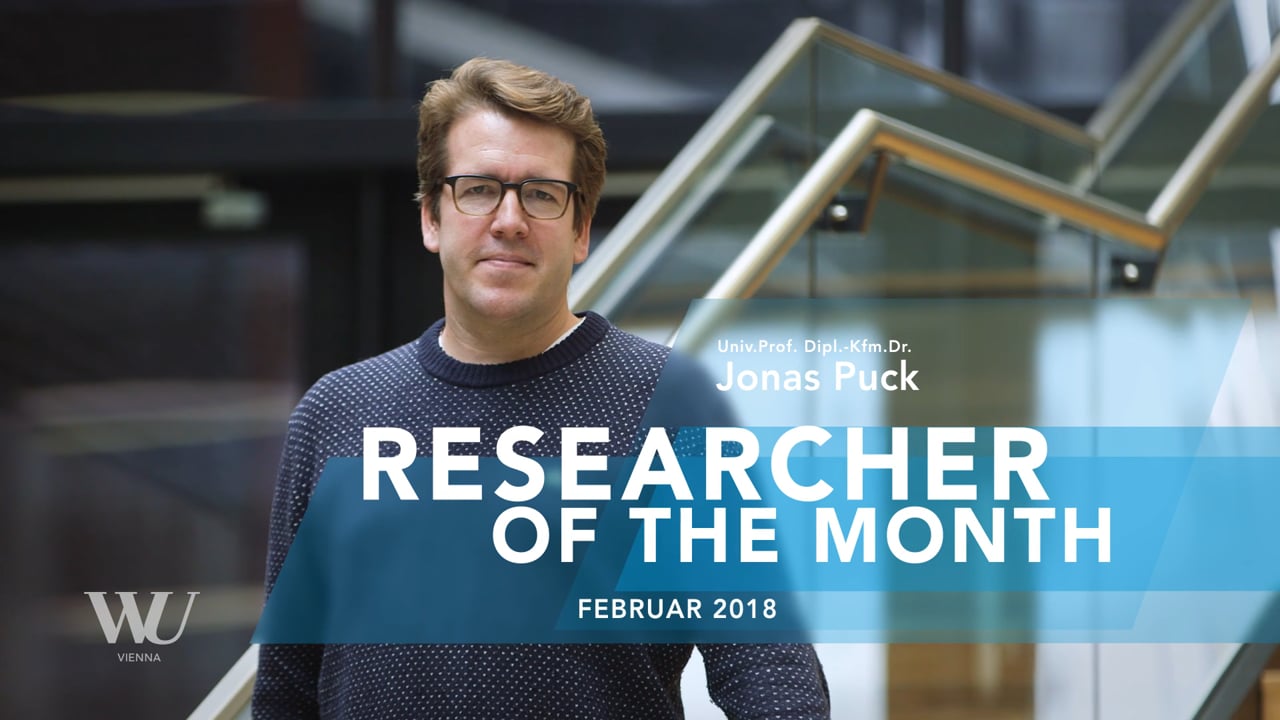 Jonas Puck
Researcher of the Month
Internationalizing soccer: How even small clubs can benefit
Whichever team you cheer for, soccer has always been important in Austrian society, and especially in recent years, it has also become a relevant economic factor worldwide. In 2016 alone, the three largest Spanish soccer clubs had a turnover of more than € 1.5 billion, and the German Bundesliga exceeded € 3.5 billion. Clubs generate substantial amounts of their revenue outside their home countries. WU professor Jonas Puck, Head of the Institute for International Business, has been investigating how soccer clubs can best develop and implement successful internationalization strategies.
Internationalization plays a key role in many areas, even in the world's most popular sport, soccer. Even though there are enthusiastic soccer fans all over the world, only a handful of teams manage to build up an international fan base around the globe. However, a large international fan base increases the chances of attracting better sponsors, better advertising opportunities, and better players. In much of his research, WU Professor Jonas Puck focuses on internationalization. Currently, his emphasis is on sports, and he is investigating how soccer clubs can internationalize successfully. A particular point of interest is how smaller clubs can benefit from the opportunities offered by international markets without losing their focus on the sport itself and their local fan base.
Marketing alone is not enough
The results show a number of promising starting points for successful internationalization. Among other things, Puck's studies show clearly that focusing solely on the internationalization of commercial activities does not lead to sustainable success. "The danger here is that clubs invest too much in commercialization without being sustainably attractive to an international market," Puck explains. According to him, it is much more important to first increase the international visibility of a club and its talent. Options to achieve this include internationalizing the lineup or the trainer team. " Pre-season matches and training camps abroad can lead to improved marketing options in other countries, subsequently enhancing the value of the club and its players," says Puck.
Chances for small-scale clubs
"Internationalization is certainly not just for the big-league clubs. Internationalization offers opportunities even for second or third-tier clubs," according to Puck. One of the major challenges frequently faced by smaller clubs is inconsistent athletic performance over time. Clubs therefore might consider shifting their unique selling point from athletic performance to the culture and character of the club itself. "Hamburg's FC Sankt Pauli is a good example: While their athletic performance is not always outstanding, the club has gained international recognition for its unique, authentic culture." A further option is narrowing the club's internationalization focus. "Countries like China, India, or the US are on the agenda of numerous clubs, which increases competition in these regions. Small clubs with a clearly defined niche strategy aimed at specific markets can avoid this competitive pressure and profit from more focused international activities." Puck's studies also reveal numerous other approaches small clubs can take to become sustainably more international and secure their long-term financial future, including partnerships and cooperations on different levels of the value chain.