Awards and Distinctions
WU honors Schläffer as WU Manager of the Year 2022
16/11/2022
WU alumnus Christopher Schläffer was honored for his visionary management achievements and his untiring social commitment.
"I'm delighted to receive this honor from my alma mater. WU has come a long way, from the Imperial Export Academy to the University of World Trade to today's WU, a leading international economic sciences hub at this incomparable campus, and I'm really impressed by this development. I have nothing but beautiful memories of my own student days in Vienna," says Christopher Schläffer.
About Christopher Schläffer
Christopher Schläffer (CEO of the London-based technology company NYOUM) has a long-standing career in the international technology sector, holding top positions at Accenture, Deutsche Telekom, and T-Online. He served as Deutsche Telekom's Chief Strategist and Chief Product & Innovation Officer for over a decade, driving the company's growth strategy in Europe and the US. He played a key role in launching the Android operating system, and went on to found the technology company NYOUM, which is developing a contextual internet. As member of the International Board of Amnesty International and also in a series of other roles, Christopher Schläffer has shown exemplary social responsibility at the service of human rights and equal opportunities.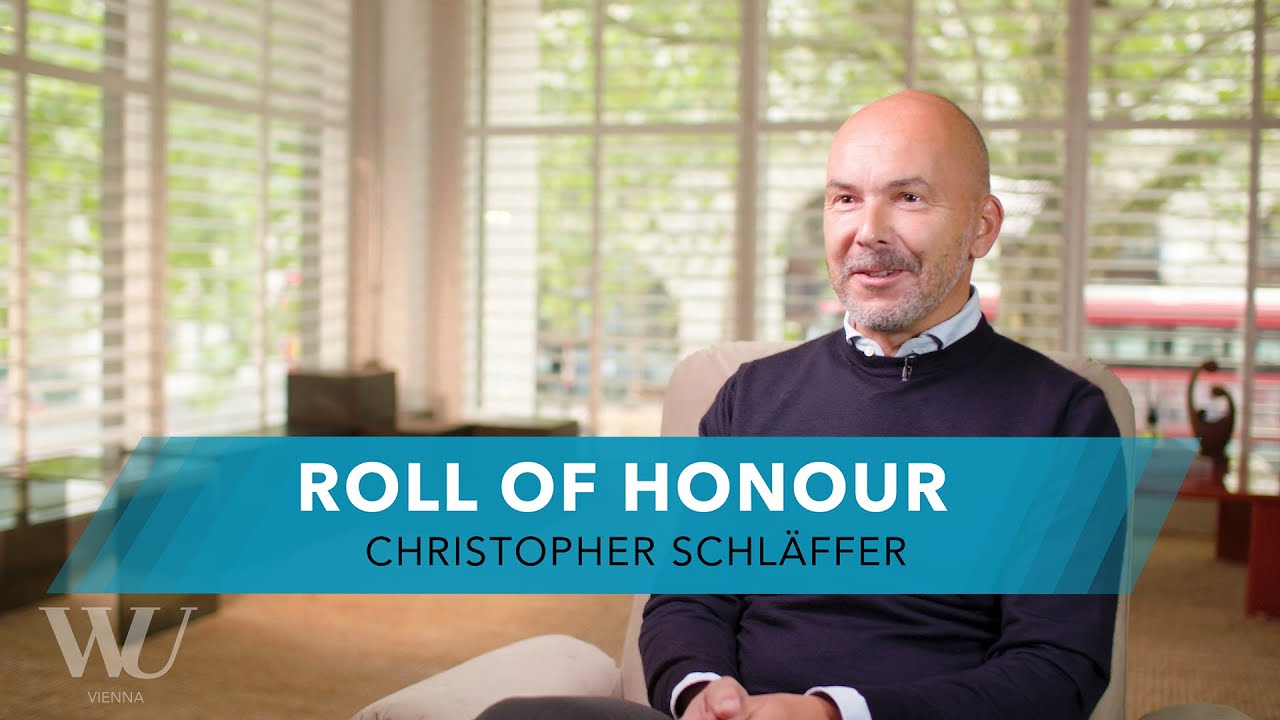 Christopher Schläffer - WU Roll…
An award in recognition of outstanding dedication and vision
The WU Manager of the Year award is WU's way of honoring alumni who have shown outstanding dedication and vision in their careers and have earned special merits in supporting the development of their own companies and the economy as a whole. "Christopher Schläffer is one of the key players shaping the future of the internet. Since graduating from WU, his career has focused on driving the development of technologies and artificial intelligence. His personality is a unique combination of an eagerness to explore new avenues, sharp strategic skills, and a strong sense of responsibility. WU is proud of its successful alumnus," says WU Rector Edeltraud Hanappi-Egger.
WU Manager of the Year
WU has been awarding the title "WU Manager of the Year" since 1993. The award honors WU alumni and top managers whose commitment and vision make a positive impact on the development of their companies and the economy as a whole. Previous titleholders include Max Hollein, director of the Metropolitan Museum of Art, member of the Management Board of the IFN Holding Anette Klinger, Western Union CEO Hikmet Ersek, and Silvia Angelo, Member of the Board of Management at ÖBB-Infrastruktur AG.
Back to overview