Erich Vranes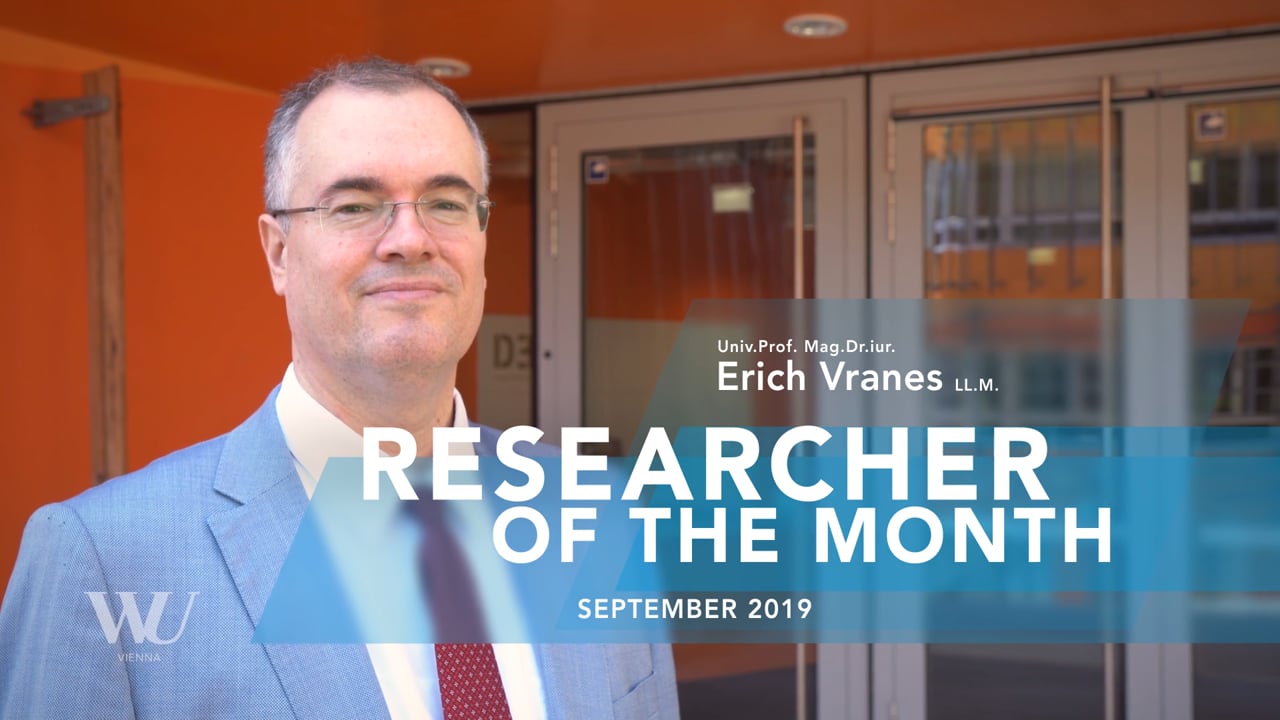 Erich Vranes
Researcher of the Month
CETA: A trade agreement with many facets
Agreements like CETA (the Comprehensive Economic and Trade Agreement between the EU and Canada) or TTIP (Transatlantic Trade and Investment Partnership) are intended to regulate some classic aspects of international trade, for instance tariffs. In addition, these agreements also include trade rules for sensitive services and regulations regarding investments, intellectual property protection, and food and drug safety. Erich Vranes, one of WU's foremost experts on European law, has investigated the effects and mechanisms of CETA in his latest research.
The CETA agreement fills around 1,600 pages. It aims to further develop international trade legislation in order to promote trade in goods, services, and investments between the EU and Canada, and to strengthen economic ties between these two players. The negotiations that led to the agreement lasted for over five years and produced far-reaching results. The implementation of CETA is, however, extremely complex and raises numerous practical questions. "We were approached by many political decision-makers, business enterprises, media representatives, and NGOs who wanted to know more about how these instruments work and which effects they can have on the legislative and executive branches, businesses, and citizens," says Professor Erich Vranes from WU's Institute for European and International Law. Professor Vranes took up the challenge. Together with 15 other experts from eight different countries, he investigated key topics in the many different areas involved in CETA: questions of international trade, investment protection, implications for democratic processes, etc. Professor Vranes looked at these issues primarily from a legal perspective.
Less discrimination, but some weaknesses
CETA is expected to bring a number of positive effects. For example, CETA clearly states that, as a general rule, foreign investors cannot challenge national regulations that equally affect domestic and foreign investors and are therefore non-discriminatory in nature. However, the research also highlights some areas where problematic developments can be observed, for example the lack of transparency in the negotiations, a lack of speed and determination in the steps taken by the EU, and problematic aspects in the fields of investment protection, environmental protection, and data protection. "According to the EU, agreements like CETA should serve as blueprints for future agreements with other countries. In this sense, these agreements carry great economic and geopolitical significance," Professor Vranes points out.
More transparency, better communication, more legally binding rules
Erich Vranes calls for more transparency in future negotiations for similar trade agreements. "The EU Commission's mandate in the negotiations should be clearly communicated to the public right from the start, and the public should also be updated on the subjects under negotiation and the progress made," he says. Professor Vranes also recommends that the European Parliament and the national parliaments should be informed in depth about the negotiations and that the parliaments should also be involved in the further development of trade agreements that are already in effect. He would also see more legally binding rules in chapters that balance economic and non-economic interests, like environmental protection.
Reference:
Major recent publication: "Mega-Regional Trade Agreements: CETA, TTIP, TiSA. New Orientations for EU External Economic Relations," Oxford University Press 2017 (edited by Stefan Griller, Walter Obwexer, and Erich Vranes)