Susanne Kalss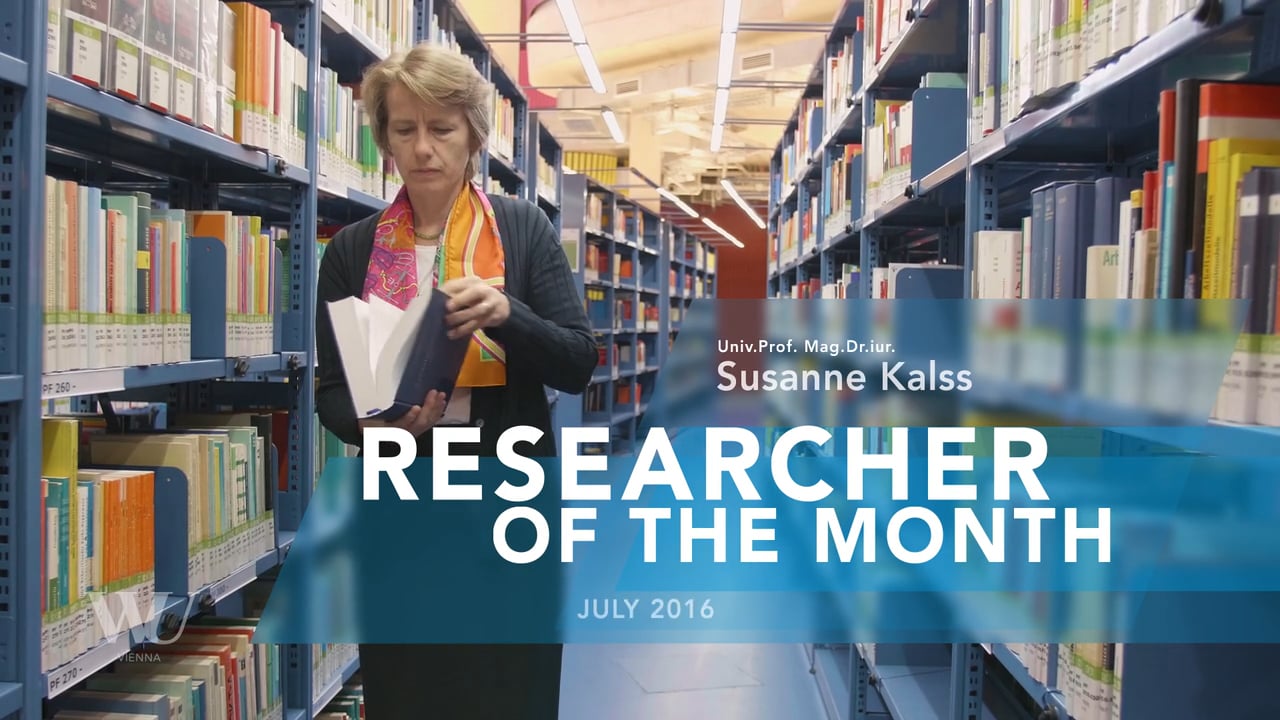 Susanne Kalss
Researcher of the Month - July
Amendment increases legal certainty for family businesses
On July 1, an amendment of the Austrian Civil Code enters into force that closes an important legal loophole and provides a more solid legal basis for family businesses in Austria. The amendment is intended to make it harder to get out of shareholders' agreements, with the objective of better regulating the shareholder structure of family businesses and the acquisition of shares by external investors. The amendment was suggested by WU Professor Susanne Kalss, who has been studying the various legal provisions that apply to family businesses for many years. She sees the amendment as a major step towards more legal certainty for family businesses. About 80% of all Austrian enterprises are family businesses. They use various legal instruments to secure their existence in the long term, including shareholders' agreements that regulate internal arrangements such as the distribution of shares, share transfers, and the payout of earnings. In recent years, a loophole in the Austrian Civil Code was identified as problematic in this regard. The loophole made it possible for family shareholders to exit an existing shareholders' agreement and sell their shares to third parties, thus allowing external investors to buy their way into family businesses, posing a threat to their continued existence. As of July 1, an amendment to the Austrian Civil Code proposed by WU Professor Susanne Kalss now remedies this situation. "We explored various interpretations of the law we thought might help to close the loophole. Unfortunately, we had to inform the legislators that this wasn't possible. For this reason, we proposed the addition of five new words to the text of the Civil Code to provide more legal certainty for family businesses. These five words enter into force today. We are thrilled to see that our work has contributed to such a significant improvement," says Professor Susanne Kalss of WU's Department of Business, Employment and Social Security Law.
Shareholders' agreements as important safeguards
Shareholders' agreements are confidential agreements that complement an enterprise's constitutional documents and specify internal regulations for the relationships between (mostly family) shareholders, including share transfers, the distribution of functions and responsibilities, voting agreements for annual general meetings, and the distribution of profits. In this sense, shareholders' agreements regulate the relationship between family members and the enterprise, and their objective is to ensure stability. To safeguard the continued existence of a family business, it is essential to ensure that (family) shareholders cannot simply sell their shares to outsiders. It is precisely in this context that the researchers of WU's Department of Business, Employment and Social Security Law discovered legal loopholes allowing shareholders to exit shareholders' agreements and sell their shares to external investors, potentially posing a significant threat to the existence of family businesses.
An amendment with loopholes
Two years ago, an amendment of Austria's 200-year-old Civil Code was passed that included completely new stipulations regarding corporate law and shareholders' agreements. However, these changes also brought to light several gray areas where the legal provisions were unclear and harbored significant risks, particularly to family businesses. Susanne Kalss has been investigating these risks in her academic work at the Department of Business, Employment and Social Security Law. "This previous amendment made it possible for individual family shareholders to sell their shares to external investors, for instance competitors, without any internal consultations, which constituted a massive threat to the continued existence of many family businesses. However, the legislators have now taken notice of family businesses' contractual objective of keeping the shares in the hands of family members, which is reflected in the new words added to § 1209 of the Austrian Civil Code," explains Susanne Kalss.