WU honorary doctorate for Frederick Schauer
18/10/2019
On October 17, 2019, WU (Vienna University of Economics and Business) Rector Edeltraud Hanappi-Egger awarded an honorary doctorate to US scholar Frederick Schauer, one of the leading constitutional law experts and legal theorists of our time. The honorary doctoral degree is the highest distinction for outstanding academic achievements awarded by WU.
At the honorary doctorate presentation ceremony, Frederick Schauer gave a lecture on "Second-Best Constitutionalism." After the talk, he discussed this topic with Alexander Somek from the University of Vienna, Anna Bettina Kaiser from Humboldt-Universität zu Berlin, and WU Professor Christoph Grabenwarter, the acting president of the Austrian Constitutional Court. Frederick Schauer is widely recognized as a preeminent scholar in the field of law. In his laudatory speech, Christoph Bezemek, dean of the Faculty of Law of the University of Graz, highlighted Prof. Schauer's outstanding achievements: "Like few others, Frederick Schauer has shaped our understanding of freedom of speech, its structure, and its purposes. Like few others, he has shaped our understanding of rules, their form, and their application. And, like few others, he has shaped our general understanding of the concept of law, its specificities, and its effects." After the laudatory speech, WU Rector Edeltraud Hanappi-Egger presented the title of honorary doctor to Prof. Schauer, praising his achievements: "Frederick Schauer is one of the most important legal theorists of our time. He has shown, and continues to show, extraordinary commitment in mediating between two worlds: the Continental European legal tradition on the one hand and the US legal tradition on the other. He has long-standing ties to WU, especially to the Institute for Austrian and European Public Law. In awarding an honorary doctorate to Frederick Schauer, WU celebrates the achievements of a scholar who has had a decisive influence on the development of the legal discourse of our time."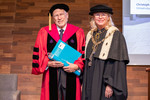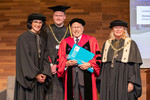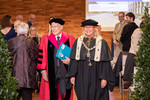 About Frederick Schauer
Frederick Schauer is a David and Mary Harrison Distinguished Professor of Law at the University of Virginia. From 1990 to 2008, he was Frank Stanton Professor of the First Amendment at Harvard University. He held a chair of law at the University of Michigan, was a visiting professor at Columbia Law School and the University of Chicago School of Law, and he was Eastman Professor at the University of Oxford. Prof. Schauer is also a fellow of the American Academy of Arts and Sciences and recipient of a Guggenheim Fellowship. In the 1980s and 90s, Frederick Schauer published groundbreaking work on US constitutional law, in particular the freedom of speech, and on legal reasoning, especially the nature and value of legal formalism. According to Prof. Schauer, his most famous work, "Free Speech: A Philosophical Enquiry" (1982), was in fact written in Vienna. In this book, Frederick Schauer argues that governmental attempts to restrict the freedom of expression result in a disproportionate number of governmental mistakes. He says that when governments restrict the freedom of expression, they tend to censor criticism of themselves, which makes it harder for them to assess the costs and benefits of their own actions. Frederick Schauer not only lived in Vienna for some time, he actually comes from a Jewish family who once lived close to where Campus WU is located today. Part of the family managed to flee Vienna during the time of the Nazi regime, but some family members were killed in Nazi concentration camps.
To date, WU has awarded honorary doctoral degrees to a total of 15 eminent scholars. The latest researcher to receive an honorary doctorate before Frederick Schauer was Nobel Prize laureate James J. Heckman.
Contact:
Cornelia Moll
Press Relations Officer
Tel: + 43-1-31336-4977
Email: cornelia.moll@wu.ac.at
Back to overview