Accommodations & Services
The BeAble support program aims to improve the quality of everyday student life for persons with disabilities and/or chronic illnesses.
Legal situation in Austria
According to §59 (1) Z 12 of the Universities Act, as a (non-)degree student with a disability you have the right to exam accommodations. Thus, as a student with disabilities, you can take courses and examinations of the same content and with the same requirements while being provided with suitable and reasonable accommodations.
Practical accommodations and services at WU Vienna
In order to ensure reasonable accommodations for disabilities and/or chronic illnesses and to allow for barrier-free access to student life on campus, the BeAble program offers many different support services, including:
Exam accommodations // Alternative exam arrangements
extension of the examination time, separate examination room, adaptation/enlargement of the examination form, tutor available
suitable for students with e.g. reading and/or spelling difficulties, autism spectrum disorders, visual impairments

Note-taking (assistance) // Scribe
especially for exams, but also for courses
suitable for students with e.g. motor impairments without assistance

Provision of technical aids (e.g. laptop)
suitable for students with e.g. motor impairments, visual impairments

Support in registering for continuous assessment courses
suitable for students who cannot participate in the registration process with equal opportunities due to their impairment or who are not flexible in terms of time due to the need for support/assistance during the course (e.g. sign language interpreter).
Suitable access to course materials
suitable, for instance, for students with visual impairments
Support with services at the self-service terminals
re-registration, printing of transcripts, confirmations, etc.
Advice and guidance

Social events

Peer groups
Depending on your individual situation, the BeAble program may also offer additional support services if need be.
Individuality is the key to success
Since disabilities may come and show in many different forms, it is necessary for the support services listed above to suit the student's respective situation.
For this reason, we schedule a consultation with every program applicant in order to comprehensively assess their respective situation, jointly find suitable support services and clarify possible questions. You can find more information about the initial consultation here.
FAQs on our accommodations & services
For which exams can I get accommodations and/or use support services?
When and where do the exams with different exam modalities take place?
How do I find out where I will take the exam?
Does the support by BeAble cost anything?
Can I choose which support service I want before each exam?
The approved support services are not fitting for me or my impairment has changed and the support services are thus no longer a fit. What should I do?
More information
The BeAble team will be happy to provide you with more information and answer any questions you may have.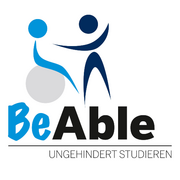 Learn more!
Join the BeAble program