Programs
WU welcomes new students – online and face-to-face
18/09/2020
WU helps first-year students get off to a great start during the time of corona with a mix of online and in-person events.
The coronavirus is presenting universities with massive challenges. Strict safety and hygiene measures like social distancing make it impossible to hold large-scale classes or other events on campus as usual. Especially for first-year students, however, starting a bachelor's program is a once-in-a-lifetime experience and large-scale introductory events give them the opportunity to orient themselves, meet fellow students, and start figuring out how universities work. Switching entirely to distance-learning formats is counter-productive during this phase of a student's academic life. To provide its new students with this important experience this year, WU's semester kick-off events were subject to strict safety measures, including a rapid screening test for COVID-19.
WU's online Welcome Days are the first event for first-year students. During the event, students are divided into smaller groups to help them stay connected throughout their studies and get to know each other personally in a digital format. Rector Edeltraud Hanappi-Egger and Vice-Rector for Academic Programs and Student Affairs Margarethe Rammerstorfer welcomed the new students with a live-stream broadcast from the Ceremonial Hall. Questions about the academic programs were answered in various chats. Over 3,000 people were invited to attend.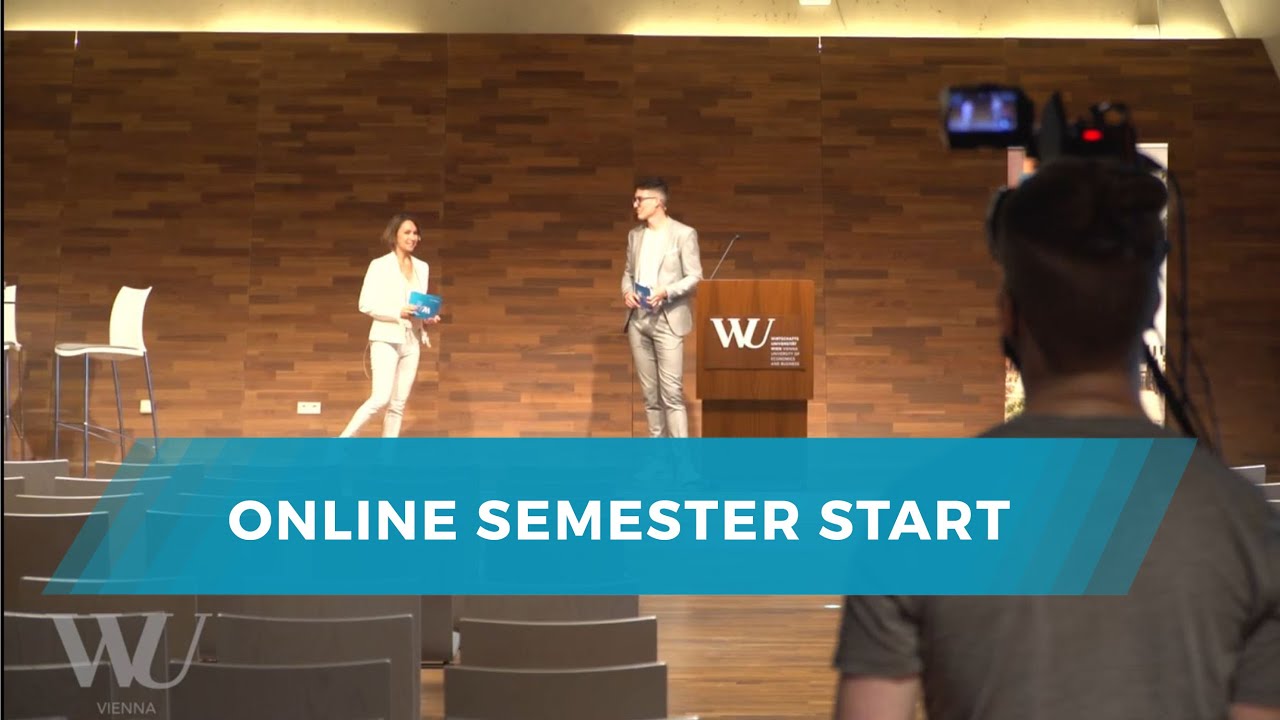 WU Welcome Days 2020
Let's take a look behind the…
Introductory classes with strict security
On Wednesday, the new students in the Bachelor's Program in Business, Economics and Social Sciences were split into 2 groups and invited to the Austria Center for their first class, Introduction to Business Administration. "For WU, it was very important to provide our first-year students with a face-to-face introduction to university life in addition to the online Welcome Days. At the same time, we also wanted to ensure maximum safety for our students and faculty, so we gave students and teachers the opportunity to take a rapid screening test for COVID-19 before entering the facility, in cooperation with the Austria Center," says WU Rector Edeltraud Hanappi-Egger. After receiving a negative test result, students were able to attend the class - maintaining safe distances and wearing masks all the way to their seats - and experience a large-scale university lecture for the first time. Those who were unable or unwilling to take the rapid screening test were invited to attend the kick-off event online via live stream. "All the students who attended in person took advantage of the opportunity to be tested," said the Rector. The kick-off event for Business Law students was held on Thursday. They were welcomed by Minister of Justice Alma Zadic.
A total of approximately 1,700 people were screened for the coronavirus. 5 students tested positive: These students were given a PCR test on the spot and referred to on-site medical staff.
Screening results provide universities with insights
Vice-Rector for Academic Programs and Student Affairs Margarethe Rammerstorfer explains why WU decided to test all students before admitting them to the auditorium in the Austria Center: "This was the first time systematic screening has been used at a large-scale event in Austria. We currently have no research data on the risks involved in resuming on-campus teaching at Austria's universities. By screening such a large sample of students, WU is contributing valuable initial data to help evaluate the risks of in-person teaching at universities for the upcoming semester." WU Rector Hanappi-Egger adds, "Large-scale testing is currently not within reach for universities. A comprehensive screening strategy would be advantageous, both to protect students and teachers and as a valuable contribution to coronavirus research."
Back to overview