Prof. Dr. Axel Polleres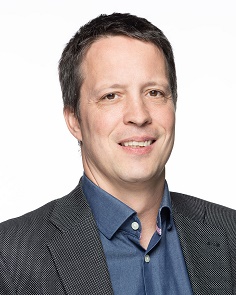 Head of In­sti­tute
Wirtschaft­suni­versität Wien
De­part­ment of In­form­a­tions Sys­tems & Op­er­a­tions
In­sti­tute for In­form­a­tion Busi­ness
Build­ing D2, 3rd Floor
Welthan­delsplatz 1, 1020 Wien
Email: axel.polleres@wu.ac.at
Phone: +43-1-31336/5297
Fax: +43-1-31336/905297
Con­sulta­tion on Ap­point­ment
Axel Polleres joined the In­sti­tute of In­form­a­tion Busi­ness of Vi­enna Uni­versity of Eco­nom­ics and Busi­ness (WU Wien) in Sept 2013 as a full pro­fessor in the area of "Data and Know­ledge En­gin­eer­ing".
He ob­tained his doc­tor­ate and hab­il­it­a­tion from Vi­enna Uni­versity of Tech­no­logy and worked at Uni­versity of Inns­bruck, Aus­tria, Uni­ver­sidad Rey Juan Car­los, Mad­rid, Spain, the Di­gital En­ter­prise Re­search In­sti­tute (DERI) at the Na­tional Uni­versity of Ire­land, Gal­way, and for Siemens AG's Cor­por­ate Tech­no­logy Re­search di­vi­sion be­fore join­ing WU Wien. His re­search fo­cuses on query­ing and reas­on­ing about on­to­lo­gies, rules lan­guages, lo­gic pro­gram­ming, Se­mantic Web tech­no­lo­gies, Web ser­vices, know­ledge man­age­ment, Linked Open Data, con­fig­ur­a­tion tech­no­lo­gies and their ap­plic­a­tions. He has worked in several European and na­tional re­search pro­jects in these areas.
Axel has pub­lished more than 100 articles in journ­als, books, and con­fer­ence and work­shop con­tri­bu­tions and co-or­gan­ised several in­ter­na­tional con­fer­ences and work­shops in the areas of lo­gic pro­gram­ming, Se­mantic Web, data man­age­ment, Web ser­vices and re­lated top­ics and acts as ed­it­or­ial board mem­ber for SWJ and JWS. Moreover, he act­ively con­trib­uted to in­ter­na­tional stand­ard­isa­tion ef­forts within the World Wide Web Con­sor­tium (W3C) where he co-­chaired the W3C SPARQL work­ing group.
Re­search In­terests
Query­ing and Reas­on­ing about On­to­lo­gies

Rules Lan­guages

Lo­gic pro­gram­ming

Se­mantic Web Tech­no­lo­gies

Web Ser­vices

Know­ledge Man­age­ment

Linked Open Data

Con­fig­ur­a­tion Tech­no­lo­gies
Thesis Top­ics (Bach­elor, Mas­ter, PhD)
WU "Open Data" Ini­ti­at­ive - What in­sights can you gain from pub­lic data about your uni­versity (Bach­elor & MSc)

In­teg­rat­ing Open Data from dif­fer­ent sources and do­mains  (Bach­elor & MSc)  e.g.:

"Sus­tain­ab­il­ity" and "Qual­ity of Life" re­lated data from dif­fer­ent Open Data Sources and present­ing it in a Web in­ter­face.

In­teg­rat­ing & Ana­lys­ing Music Data from On­line Sources

 

"Con­fined" Linked Data (proven­ance, pri­cing mod­els, li­cens­ing, ac­cess con­trol in Linked Data) (MSc & PhD)

Ex­ten­sions of SPARQL, e.g. com­bin­ing query lan­guages for data and pro­cesses (MSc & PhD)

Ana­lys­ing Data Qual­ity in Open Data Cata­logs (Bach­elor & MSc)

Query Re­writ­ing and Op­tim­isa­tion (in dif­fer­ent set­tings)  (MSc & PhD)

Sur­vey­ing NoSQL Data­bases & Tools for Big Data Ana­lyt­ics (Bach­elor & MSc)

Reas­on­ing and Query­ing over Linked Data (MSc & PhD)
Lec­tures at WU
Pub­lic­a­tions
Pro­jects