EUCOTAX-Program
Since 1997 our Institute is part of the EUCOTAX-group, a network consisting of the tax law institutes of universities in Paris (Panthéon-Sorbonne), Barcelona (Universitat de Barcelona), Uppsala (Uppsala Universitet), Tilburg (Tilburg University), Leuven (Katholieke Universiteit Leuven), Washington DC (Georgetown University), Budapest (Corvinus University), Rome (LUISS Guido Carli), Osnabrück (Universität Osnabrück), Lodz (University of Lodz), Warsaw (Universitas Varsoviensis), Zürich (Universität Zürich), Edinburgh (University of Edinburgh), Valenica (Universitat de Valencia) and Vienna (WU).
Within the EUCOTAX-group the participating tax law institutes define and carry out research projects on current tax topics.
At the yearly EUCOTAX Wintercourse workshops are offered where students work with colleagues from other universities and compare the legal situations in their home countries and draft a report on their findings. The so called "Open Conference" and the "EY Lecture" provide additional input on the topic. Each year the Wintercourse has a different main topic and six subtopics, each of them dealt with in one of the six workshops. This provides an ideal opportunity to work intensely in English on an exciting topic, to discuss with researchers from 15 other universities and to establish contacts on an international level.
The participants to the EUCOTAX Wintercourse are selected in a competitive process at each of the member universities and they receive a special training to prepare them for this event. Each summer term we invite students to apply to write one of the six topics (bachelor or master level) and participate in the EUCOTAX program as official representatives of WU Vienna. As the bachelor and master theses are to be written in English special support is given for this purpose.
The EUCOTAX experience 2023-2024
Eucotax_promotion_2023-2024_.pptx
EUCOTAX Wintercourse 2016
Eucotax Wintercourse 2016 in Wien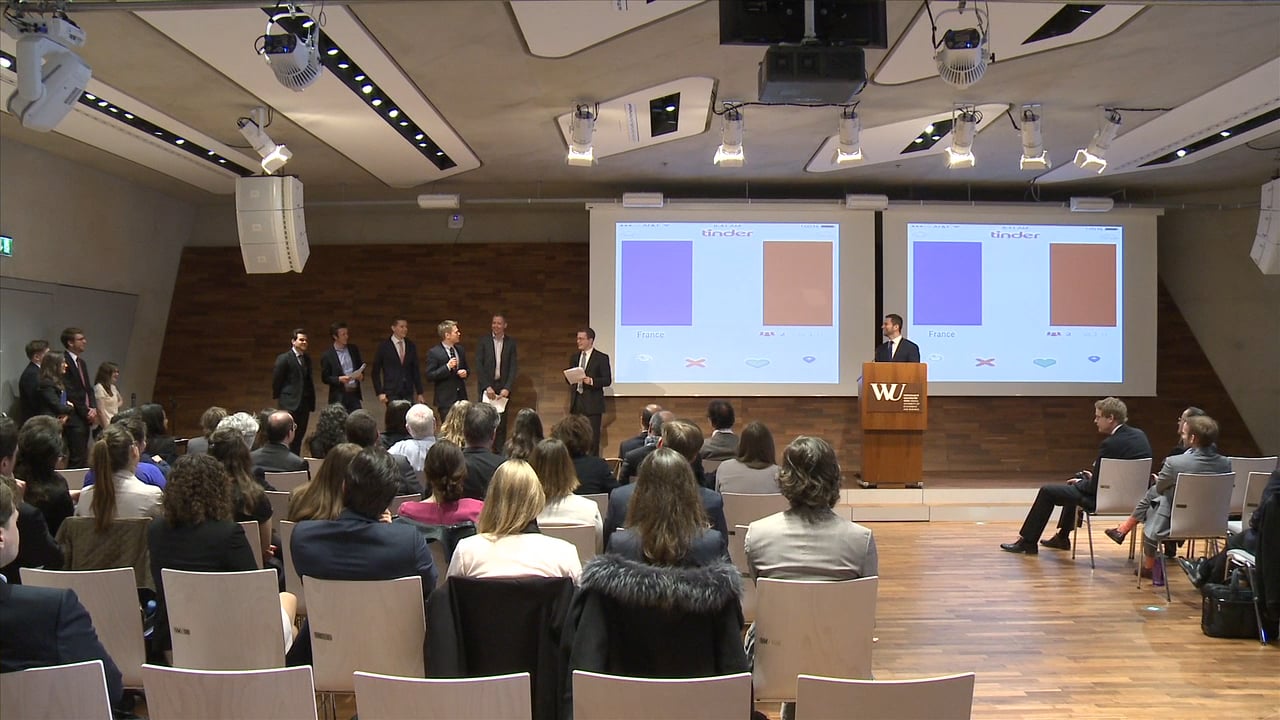 EUCOTAX Wintercourse 2016
The subject area is 'The European Harmonization of Tax Law' and each year a different theme is explored and studied.
The 'Potential Impact of BEPS on Tax Systems' was the topic for the EUCOTAX Wintercourse 2016, held at WU Vienna and hosted by the Institute for Austrian and International Tax Law, WU.
The first Wintercourse was held in Tilburg, the Netherlands in 1993 by the universities of Hamburg, Paris and Tilburg. Vienna joined the EUCOTAX-network during the 1998-course. Because of the program's success, the number of participating universities has been extended to now being 15 Universities. Ultimately, the participants' intention is to cover the entire European Union which needs a gradual extension of the number of participating countries.
Downloads
AusschreibungEUCOTAX_2023_24_neu.pdf
Erfahrungsberichte ehemaliger EUCOTAX-Teilnehmer:
A further overview of the courses held in English can also be found HERE.