Plenary Speakers Paola Catenaccio (University of Milan)
Bio: Paola Catenaccio received her first degree and her PhD (in English literature) from the Catholic University, Milan. After a number of years as a postgraduate (guest) student in London (King's College; Birkbeck college), she returned to Italy, where she was offered a position as Lecturer in English Linguistics at the University of Milan (Università degli Studi di Milano). She has been working at UNIMI since 2004, teaching English Linguistics with a focus on Business English. Full professor since 2016, she is currently Director of Studies for the BA in Language Mediation and Intercultural Communication and for the MA in Languages and Cultures for International Communication and Cooperation, a position she has held since 2014, having previously served as Deputy Dean for international relations in the Faculty of Social and Political Science. She has served as evaluator the two latest editions of the Italian Research Assessment Exercise and in national and international grant assignment procedures. She is Editor-in-Chief of the international journal LCM – Languages Cultures Mediation, and sub-editor of the International Journal of Business Communication.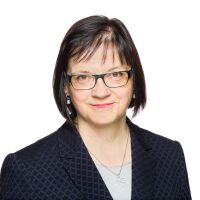 Gerlinde Mautner (Vienna University of Economics and Business)
Bio: Gerlinde Mautner received her first degree and doctorate in English from the University of Vienna, completed her Habilitation in 1997 and was appointed to a chair at WU in 2000.
Between 1998 and 2002 she was the WU's Vice-Rector for International Relations. Gerlinde has spent several extended research periods at the linguistics departments of British universities, including Birmingham, Lancaster, Cardiff and King's College London. From September 2012 until March 2013 she was a visiting fellow at the School of Business and Management of Queen Mary, University of London. In September 2014 she was appointed Honorary Visiting Professor at Cass Business School.
Between 2008 and 2016 she was a member of the Board of the Austrian Science Fund (FWF). Since September 2016 she has been the FWF's Vice-President for Humanities and Social Sciences.
Eero Vaara (Aalto University)
Bio: Eero Vaara (Ph.D. Econ) is a Professor of Organization and Management at Aalto University School of Business, Helsinki, Finland. He is a permanent Visiting Professor at EMLYON Business School, France, and a Distinguished Visiting Scholar at Lancaster University, UK. He has previously served as the Chair of European Group of Organizational Studies (EGOS) and as representative-at-large of the Board of Governors of the Academy of Management. He is now a board member of the European Institute for Advanced Studies of Management (EIASM) and Scandinavian Consortium of Organizational Research (SCANCOR, Stanford and Harvard).