Studieninformation
The content on this page is currently available in German only.
Studierendeninformationen für den Studienschwerpunkt VW
Das Department für Volkswirtschaft liefert Lehrangebote in allen drei Studienabschnitten des Bachelorstudiums Wirtschafts- und Sozialwissenschaften.
Nachfolgend finden Sie eine Übersicht der Veranstaltungen, die im Rahmen des Volkswirtschaft Schwerpunktes zu absolvieren sind, sowie eine Empfehlung des Studienverlaufs durch das Department für Volkswirtschaft.
Schnuppervorlesung "Bildung und Entwicklung: Wie kann man Armut bekämpfen?"
Beim Tag der Offenen Tür 2016 hielt Prof. Jesús Crespo Cuaresma eine Schnuppervorlesung zum Thema "Bildung und Entwicklung: Wie kann man Armut bekämpfen?".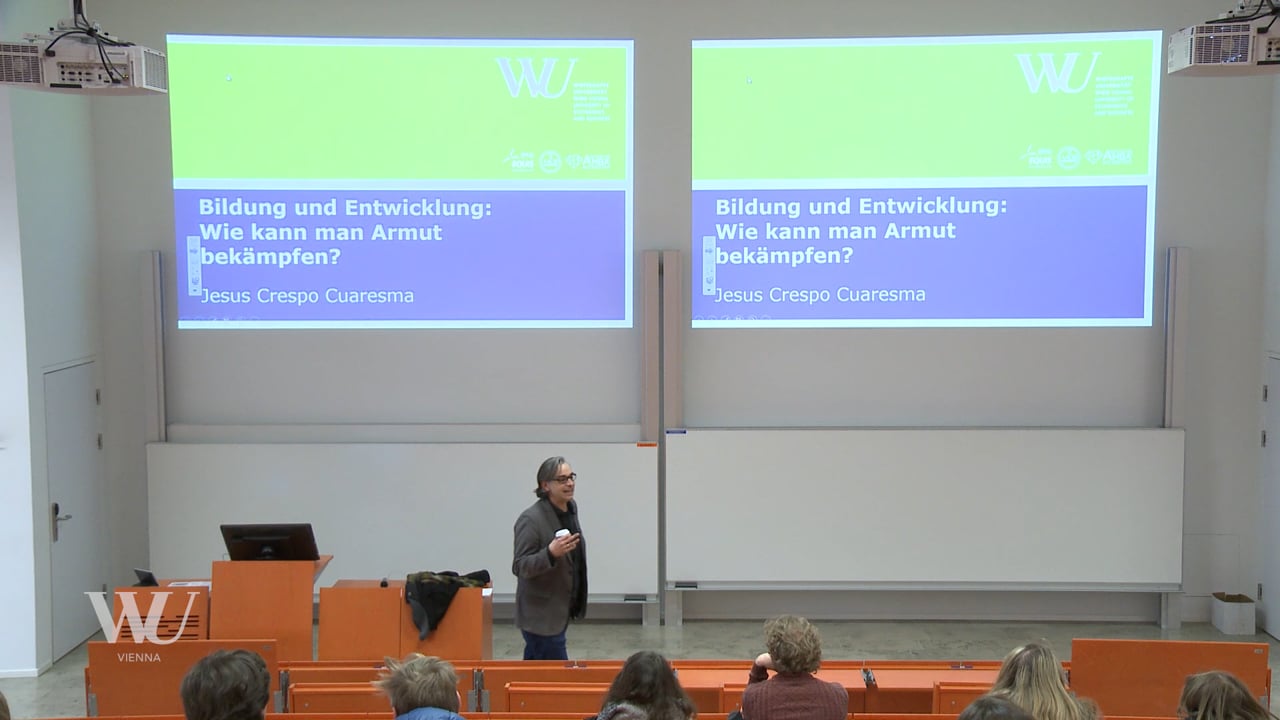 Studieneingangs- und Orientierungsphase (STEOP)
In der Studieneingangs- und Orientierungsphase wird Grundlagen der Volkswirtschaftslehre angeboten. Ziel dieser Lehrveranstaltung ist das Erlernen der Grundlagen der VWL, des Umgangs mit formalen Konzepten bzw. einer theoretisch fundierten Argumentation.
Wichtiger Hinweis:
Für inhaltliche und organisatorische Rückfragen bzgl. der LV Grundlagen der Volkswirtschaftslehre wenden Sie sich bitte ausschließlich an: grundlagen-vwl@wu.ac.at (Bei Fragen zu den Hausübungen führen Sie bitte unbedingt die Nummer der LV an, bei der Sie angemeldet sind)
Common Body of Knowledge (CBK)
Hier wird der Besuch der "ausgeflaggten" LVs speziell für Volkswirt*innen empfohlen.
Hauptstudium - Studienzweig Volkswirtschaft und Sozioökonomie
Die vom Department angebotenen Lehrveranstaltungen bestehen im zweiten Studienabschnitt aus dem Beitrag zum gemeinsamen Programm für Volkswirtschaft und Sozioökonomie (im 2. Studienjahr) sowie aus dem spezifischen Programm für den Studienschwerpunkt Volkswirtschaft (im 3. Studienjahr). Die Lehrveranstaltungen aus Volkswirtschaft im 2. wie im 3. Jahr werden, so weit es möglich ist, überschneidungsfrei angeboten.
Im Schwerpunkt VW vertiefen Sie volkswirtschaftliche Grundlagen, lernen angewandte Methoden der VWL sowie den Bereich Finanzwissenschaften kennen. Spezialisierungsgebiete im Ausmaß von 24 ECTS ermöglichen inhaltliche Schwerpunktsetzungen. Zusätzlich sieht der Studienzweig freie Wahlfachstunden im Ausmaß von 6 ECTS sowie die Abfassung einer Bachelorarbeit vor.
Auflistung des Angebots der Spezialisierungen auf Deutsch bzw. Englisch im Winter- bzw. Sommersemester:
| | | |
| --- | --- | --- |
| | Deutsch | Englisch |
| Geld und Konjunktur/Money and the Business Cycle | Wintersemester und Sommersemester | Wintersemester und Sommersemester |
| Industrieökonomie/Industrial Economics | Wintersemester | Sommersemester |
| Internationale Wirtschaft/International Economics | Sommersemester | Wintersemester |
| Corporate Governance | -- | Sommersemester |
| Arbeitsmarktökonomie/Labor Market Economics | Wintersemester und Sommersemester | Wintersemester |
| Verteilungstheorie und –empirie/Economics of Distribution | Sommersemester | Wintersemester |
| Institutionelle Ökonomie | Wintersemester und Sommersemester | -- |
| Angewandte Wirtschaftsgeographie und Fallstudien/Applied Economic Geography and Case Studies | -- | Wintersemester und Sommersemester |
Informationen zum BaWiso Studienschwerpunkt VW
Für einen ersten inhaltlichen Einblick in die Themen, die im Studienzweig Volkswirtschaft behandelt werden, können Sie sich gerne das Video zum Thema "IS-Kurve" im Themenbereich Macroeconomics von Professor Klaus Prettner ansehen: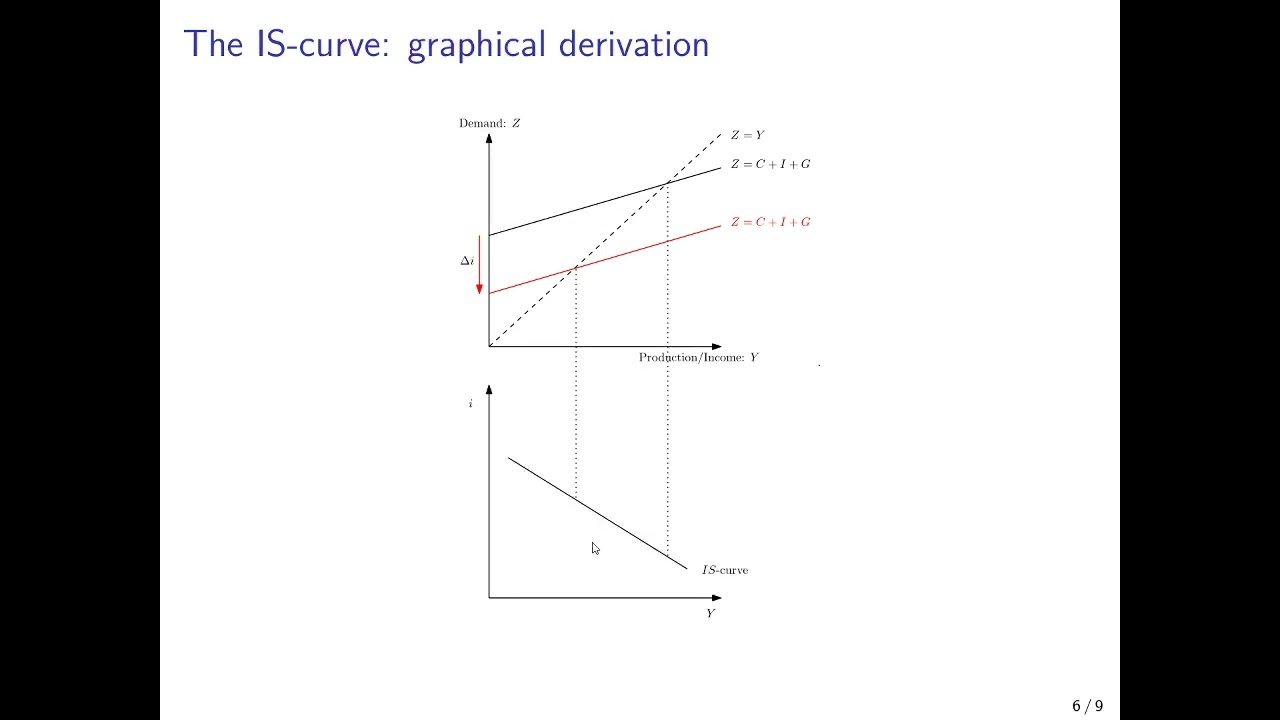 Macroeconomics: The IS curve
Wenn wir Ihr Interesse geweckt haben, finden Sie viele weitere Videos zum Thema "Macroeconomics" auf Bachelorniveau hier: