How to get here
Arrival by public transport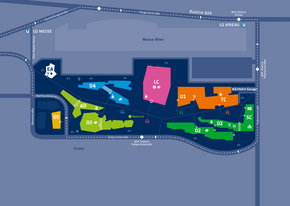 Wirtschaftsuniversität Wien
Institut for Transport and Logistics Management
Welthandelsplatz 1, Building D1, 4th floor
A-1020 Wien

The department building 1 is accessed via the U2 station Krieau, exit Krieau (5-10 minutes walk). With the bus line 82A (station Krieau) and the tram line 1 (station Prater main avenue) the WU campus is also easy to reach.

Download the campusplan
Arrival by bike
Cycling is not allowed on the WU campus; the approximately 1,000 bicycle parking spaces are located along the cycle path that runs around the campus. Approximately 250 of these parking spaces are located in "bicycle garages" (only with access card). City bike stations are located near the two subway stations Messe-Prater and Krieau, as well as at the south entrance of the WU Campus.
Arrival by car
The underground parking lot is located below the main path of the campus. The access road is located in "Trabrennstraße". There are a total of 411 parking spaces, of which about 180 lots are available at short notice, the rest is reserved for long-term parkers. There are 4 accesses to the campus from the garage. The exits lead outdoors - so each building can be accessed via its main entrance on the ground floor.