Wie Satelliten, 3D-Druck und Twitter helfen, Menschen zu retten
Humanitäre Logistik im Wandel: Logistik ist zentral bei der erfolgreichen Hilfe im Katastrophenfall. Sie verursacht nicht nur einen Großteil der Kosten, sondern ihre Gestaltung entscheidet auch über die Effizienz und Schnelligkeit der Hilfe. Die Herausforderungen dabei sind mannigfaltig. Neue Programme wie Cash-Transfer Programme können nur umgesetzt werden, wenn die entsprechende technische und logistische Infrastruktur zur Verfügung steht. Innovationen im Bereich der Logistik können dazu beitragen, dass in Zukunft besser und rascher geholfen werden kann. Der Einsatz von Satelliten sowie Social Media kann bei der Erfassung des Lagebildes unterstützen. Verbesserte Software zur Planung von Standorten und Routen sowie der Einsatz von geographischen Informationssystemen und neuen Transportmitteln versprechen Unterstützung bei der effizienten Gestaltung des Transports. 3D-Druck kann dafür sorgen, dass auch in entfernten Gebieten Ersatzteile zur Verfügung stehen. Neue Akteure können durch ihr spezifisches Wissen zu verbesserten Lösungen beitragen. In dieser Veranstaltung werden Innovationen im Bereich der humanitären Logistik vorgestellt, sowie ihr Potenzial und die Grenzen der Einsetzbarkeit diskutiert.
Diskutierende:
Univ.Prof. Dr. Tina Wakolbinger, Leiterin des Forschungsinstituts für Supply Chain Management, WU
Jürgen Kunert, Head of Purchase and Logistics, Österreichisches Rotes Kreuz
Dr. Martina Kainz, MSc, Leiterin Regionalstelle NÖ, Jugend Eine Welt
Edith Rogenhofer, GIS Unit, Ärzte ohne Grenzen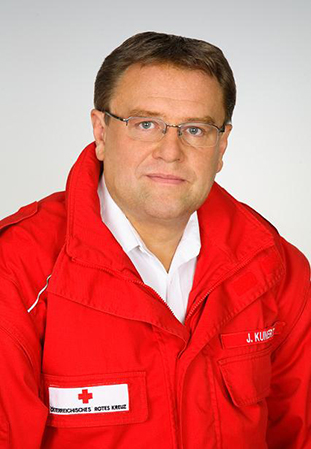 Anmerkung: Da es im Festsaal 1 eine begrenzte Anzahl an Sitzplätzen gibt, gilt bei der Sitzplatzwahl das "First Come First Served"-Prinzip.
---
---
Back to overview