Welcome (Back) to Campus
Our campus is a place where people come together. We want to showcase the diversity and energy of Campus WU and welcome everyone who studies, teaches, does research, and works here to enjoy the colorful program that we've put together: Among other attractions, you can look forward to an impressive light show on the Library & Learning Center (LC), a retro photo booth, and an outdoor art gallery – admission is free of charge.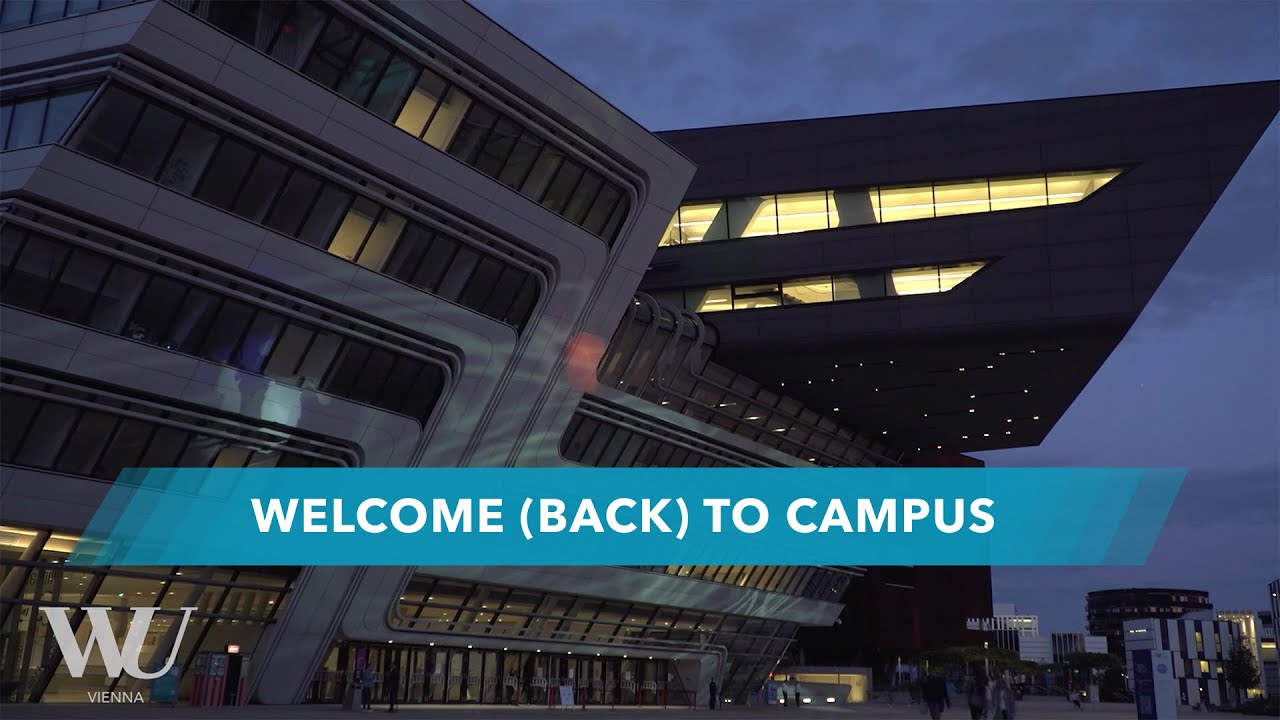 Light show
With its impressive architecture, our campus is a work of art in its own right. A light installation will illuminate the buildings, designed by international star architects, and turn the LC into a sea of colors every evening.
Date: Monday, September 27, through Friday, October 8, 2021

Time: Daily from 7:30 to 10:30pm

Location: Library & Learning Center (LC), Campus WU
You can take in the show from the chill-out area on the steps across from the LC building.
Outdoor Art Gallery
The grounds of Campus WU will be transformed into an open air art gallery featuring 20 works by up-and-coming Austrian artists, curated by WU alumna Ursula Tuczka (Metropolitain Art Club).
Date: Monday, September 27, through Sunday, October 10, 2021

Time: All day

Location: Campus grounds, Campus WU
Find out more about the artists below.
Naomi Devil
In her works, Naomi Devil addresses current global problems. She places historical portraits in contemporary contexts, creating a discourse that connects different times and eras. In this way, she shows how customs and moral norms change over time.
Kalina Horon
This Polish painter has been based in Vienna since 2014. Her works are like pieces of music built on free improvisation. Kalina Horon adds corresponding elements to this basis until the composition is perfectly balanced. Her works give visual form to the tensions that exist in the world and in society.
Christian Foidl
This WU alumnus presented his works during the WU's Talents live show. His paintings are inspired by observations made while traveling. Starting from digital sketches, he executes his paintings on the analog canvas using oil, acrylic, watercolor, and gouache.
Olivier Hölzl
Olivier Hölzels works are exhibited around the world. Moving between white cube galleries, street art festivals, and slums, Olivier Hölzl lets spectators discover new, different realities. His extensive oeuvre can be seen as an archives, documenting our times with brutal honesty and a cosmopolitan spirit.
Alex Kiessling
Alex Kiessling's works are multifaceted – in a very literal sense. His portraits consist of different layers spread out over the canvas. The spectator's gaze remains unguided, free to perceive the work in its entirety, and lingers on individual elements. This makes his paintings come alive.
Birgit Sauer
This Burgenland-based artist looks closely at the magic of the moment, focusing on the essence of what makes us human. Birgit Sauer likes to experiment, and she combines different techniques with a profound sensibility to realize her deep ideas.
Luis Morales de la Cruz
Art is a form of language that we can use to describe our dreams. Luis Morales de la Cruz knows how to use colors to create his own world. In this picture: Combinations of different stylistic elements, an eye for detail, and the typical colors of the ORGANICS by Red Bull series. #talentcomesnaturally #organicsbyredbull
Nubauer
The Austrian artist Nubauer likes to play around with pop and high-culture references. He creates a universe of cars, fetishes, and luxury consumption. His work is not limited to the canvas – he also paints cars.
Clara Khevenhüller
This Spanish artist focuses on the naturalistic depiction of volumes and surfaces. The works on display here are an homage to the masters of the Renaissance. Clara Khevenhüller turns all non-textile elements into monochrome surfaces. This creates novel dynamics and results in paintings reminiscent of pop art.
Christopher Leach
In his most recent works, Christopher Leach portrays expressive faces, combining realism with powerful brush strokes. His expressionist style imbues the Vienna skyline with an intimate air, creating a contrast to the vibrant bustle of the city.
Photo booth
How about a retro, 80's-style black-and-white photo? Visit the retro photo booth in front of the LC building for snapshots and souvenirs of WU. Share the photos with your friends on social media – just scan the QR code and use the #wuwelcome hashtag!
Tokens for free photos are available from the following partners:
WU information desk in the LC building

WU Shop in the LC building

Library in the LC building (library front and information desks)

ÖH information desk in the SC building

Library Café

Baschly

Das Campus
Directions to Campus WU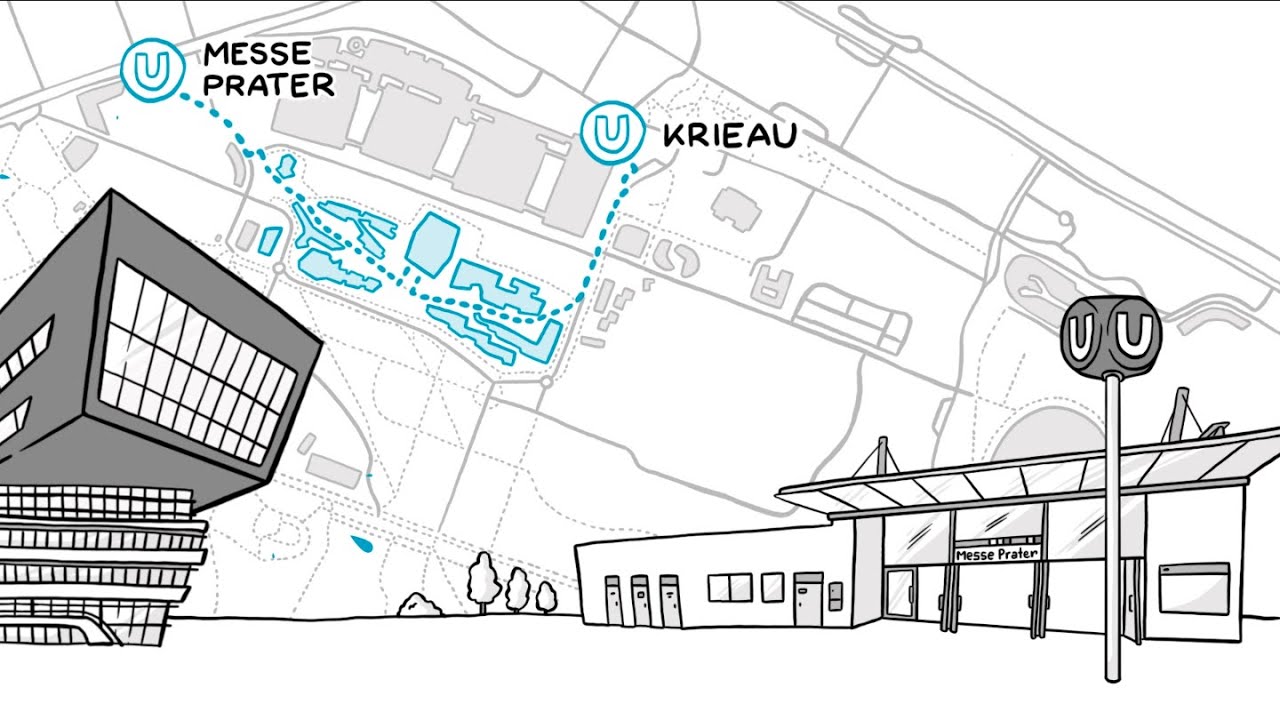 How to ...
... get to Campus WU
WU (Vienna University of Economics and Business) is located in the 2nd district, Welthandelsplatz 1. We recommend using public transportation (subway line U2).
For further information, please see the online directions to Campus WU or our interactive campus map.
Welcome (Back) to Campus is made possible in part by the generous support of:


---
---
Back to overview