GLOBAL VALUE represented at EDDs 2017, with more than 8000 participants
Already for the second time GLOBAL VALUE took part at the European Devel­op­ment Days, or­gan­ized by the European Com­mis­sion. With more than 120 ses­sions and 8000 par­ti­cipants, the EDDs rep­res­ent Europe's lead­ing forum on devel­op­ment. This year's con­fer­ence was all about shar­ing ideas on how part­ner­ing with the private sector can con­trib­ute to solv­ing the world's most press­ing chal­lenges.
GLOBAL VALUE pro­ject was rep­res­en­ted with a pro­ject lab ses­sion on smart tool­boxes for im­pact: lever­aging global busi­ness for devel­op­ment im­pact, a brain­storm­ing ses­sion on Im­prov­ing gov­ernance for re­spons­ible busi­ness as well as a global vil­lage stand on man­aging busi­ness im­pacts on devel­op­ment.
Between June 7th and 8th 2017, GLOBAL VALUE ex­perts in­tro­duced par­ti­cipants to the new on­line toolkit for meas­ur­ing and man­aging busi­ness im­pacts on devel­op­ment. The GLOBAL VALUE toolkit provides guides, prac­tical tool show­cases, them­atic work­ing pa­pers and train­ing ma­ter­i­als to tackle the Sus­tain­able Devel­op­ment Goals (SDGs) to­gether with busi­ness. The of­fi­cial launch of the toolkit took place dur­ing a vir­tual event on 12-14 June 2017.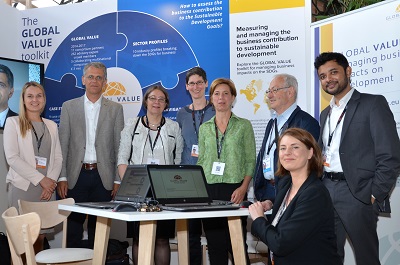 ---
---
Back to overview