Business, Economics and Social Sciences
The content on this page is currently available in German only.
Economics & Socioeconomics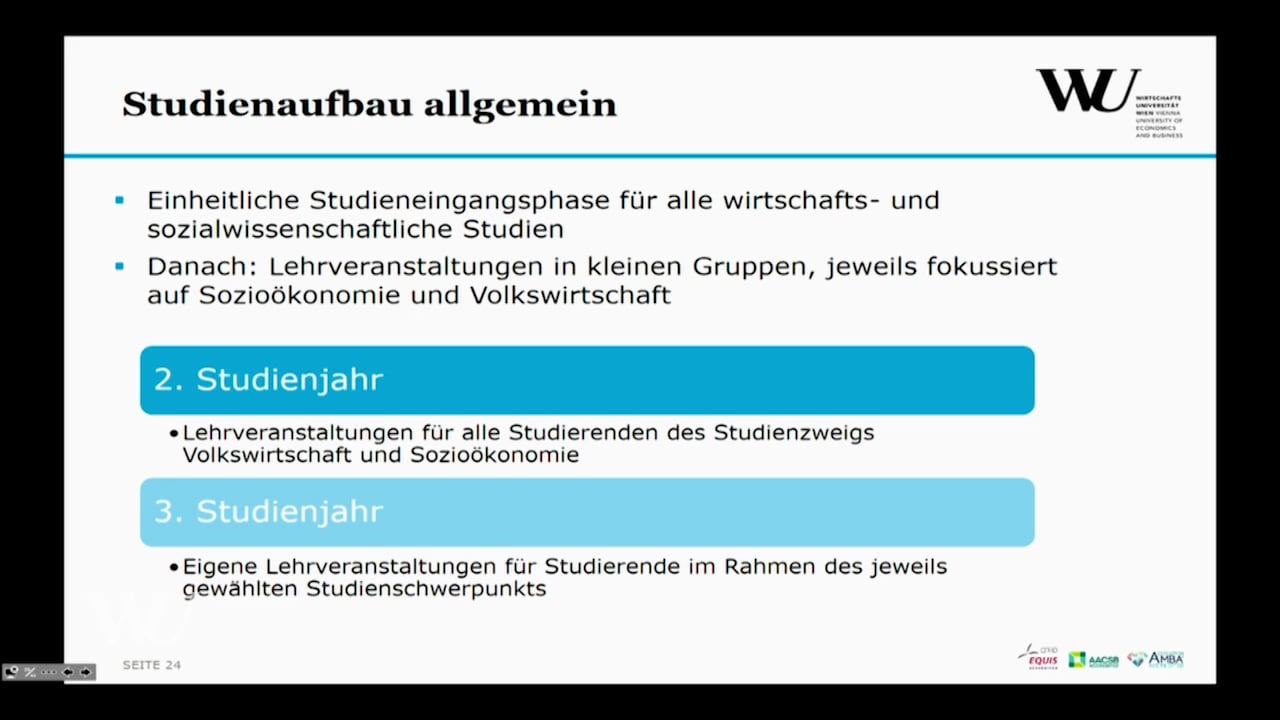 Der Studienzweig VW + SOZÖK
Tag der offenen Tür, 07.12.2018
Dieser Studienzweig ermöglicht eine weitere Spezialisierung in einem der beiden Schwerpunkte, Volkswirtschaft oder Sozioökonomie.
Im Schwerpunkt Volkswirtschaft stehen gesamtwirtschaftliche Fragestellungen und empirische Forschungsmethoden im Zentrum. Neben den Pflichtfächern bieten so genannte Spezialisierungsgebiete den Studierenden inhaltliche Schwerpunktsetzungen.

Der Schwerpunkt Sozioökonomie vermittelt breites historisches, politisches, geografisches, rechtliches und kommunikationstheoretisches Wissen, ergänzt durch Theorie- und Methodenkenntnisse.
Auf beiden Schwerpunkten aufbauend bietet die WU fachlich spezialisierte Masterprogramme an. Beim Eintritt in den Arbeitsmarkt warten auf VW-Absolvent/inn/en Jobs mit Analyse- und Prognoseaufgaben, etwa in der Wirtschaftsforschung oder Politikberatung. Absolvent/inn/en des Schwerpunktes Sozioökonomie eignen sich insbesondere für Positionen, bei denen die Steuerung komplexer Prozesse im Vordergrund steht, etwa im Kultur-, Bildungs- und Umweltmanagement oder in der Organisationsentwicklung.
Ich studiere Sozioökonomie, da es sich dabei um ein sehr breit gefächertes Gebiet handelt. Es bietet mir die Möglichkeit, mich interdisziplinär zwischen der Wirtschaftswissenschaft und der Soziologie zu bewegen und die Gesellschaft von mehreren Standpunkten aus kritisch zu analysieren.

Anna Maria Wagner, 21
"Ich studiere VWL, weil ich aktuelle wirtschaftliche Probleme verstehen, hinterfragen und analysieren möchte und vorhabe, einmal im Bereich Wirtschaftspolitik zu arbeiten."

Anna Schwarz, 22
Learn more!
Business Informatics