Business, Economics and Social Sciences
The content on this page is currently available in German only.
Studienzweig Betriebswirtschaft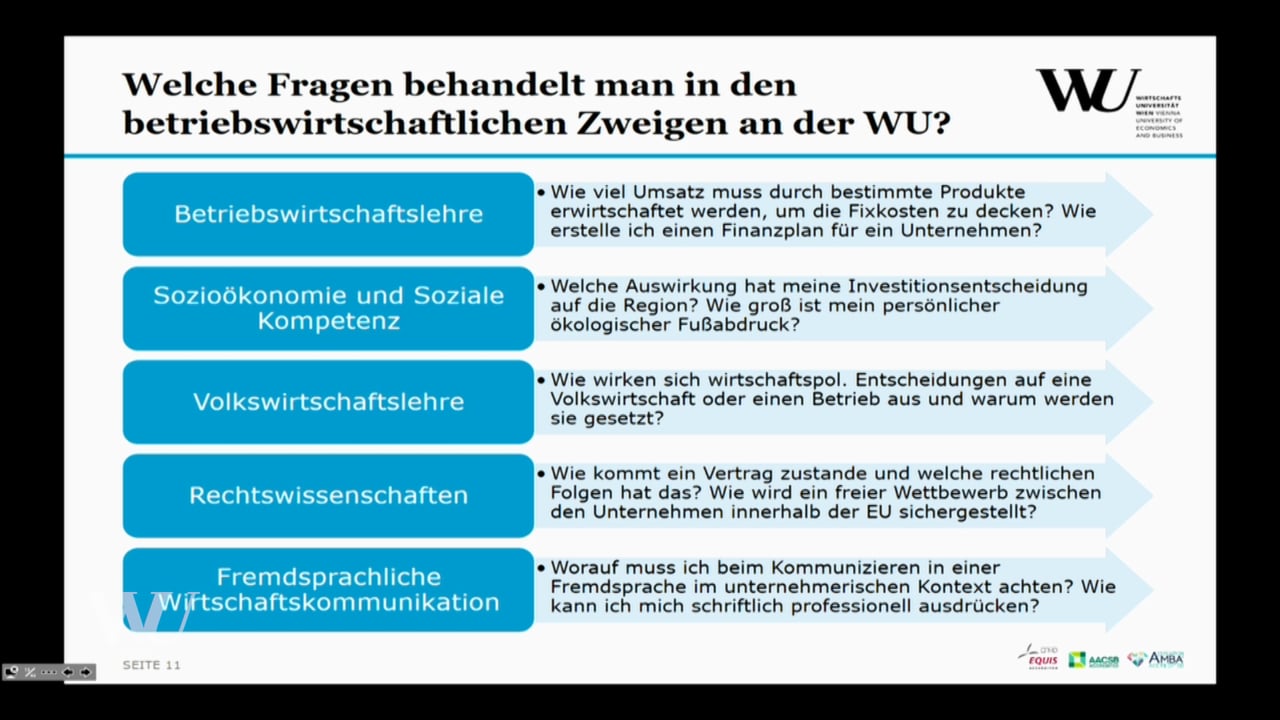 Die Studienzweige BW und IBW
Tag der offenen Tür, 07.12.2018
Der Studienzweig Betriebswirtschaft bietet Ihnen eine umfassende betriebswirtschaftliche Grundausbildung mit zahlreichen Spezialisierungsmöglichkeiten.
Durch die Wahl von zwei "Speziellen Betriebswirtschaftslehren" setzen Sie individuelle Ausbildungsschwerpunkte.

Ein Wahlfach sowie freie Wahlfachstunden bieten weitere Chancen der fachlichen Vertiefung.

Durch eine fremde Wirtschaftssprache (zur Wahl stehen Englisch, Französisch, Italienisch, Russisch oder Spanisch) sowie Lehrveranstaltungen in den Bereichen "Soziale Kompetenz" und "Sozioökonomie" ergänzen Sie Ihr betriebs- und volkswirtschaftliches sowie rechtswissenschaftliches Knowhow.
Der Abschluss des Studienzweigs Betriebswirtschaft ermöglicht Ihnen - den gewählten Spezialisierungen entsprechend - den Einstieg in zahlreiche Tätigkeitsbereiche wie etwa Controlling, Marketing, Personalwesen oder Produktion. Darüber hinaus haben Sie die Möglichkeit der Fortsetzung Ihrer akademischen Karriere im Rahmen eines Masterstudiums an der WU, im In- oder Ausland.
"Ich habe mich für den Studienzweig Betriebswirtschaftslehre entschieden, weil für mich die theoretischen Lehrinhalte gut in die Praxis umsetzbar sind und es zudem eine breite Auswahl an interessanten Spezialisierungen gibt."

Marcel Potvorszki, 7. Semester
Learn more!
International Business Administration