HEP-News
New Specialization Health and Social Policy starting summer term 2021!
interdisciplinary – international – interactive

for students in BBE, BW, IBW and WIRE

fully taught in English

30 students per term
Further information, including information on course structure, access to the specialization and FAQs, can be found here.
Contact: hsp@wu.ac.at
Read the article by Patricia Mcallister-Käfer from November 13th, 2020 - a part of the Junge Forschung topic - about Daniela Weber's research.
WU Researcher of the Month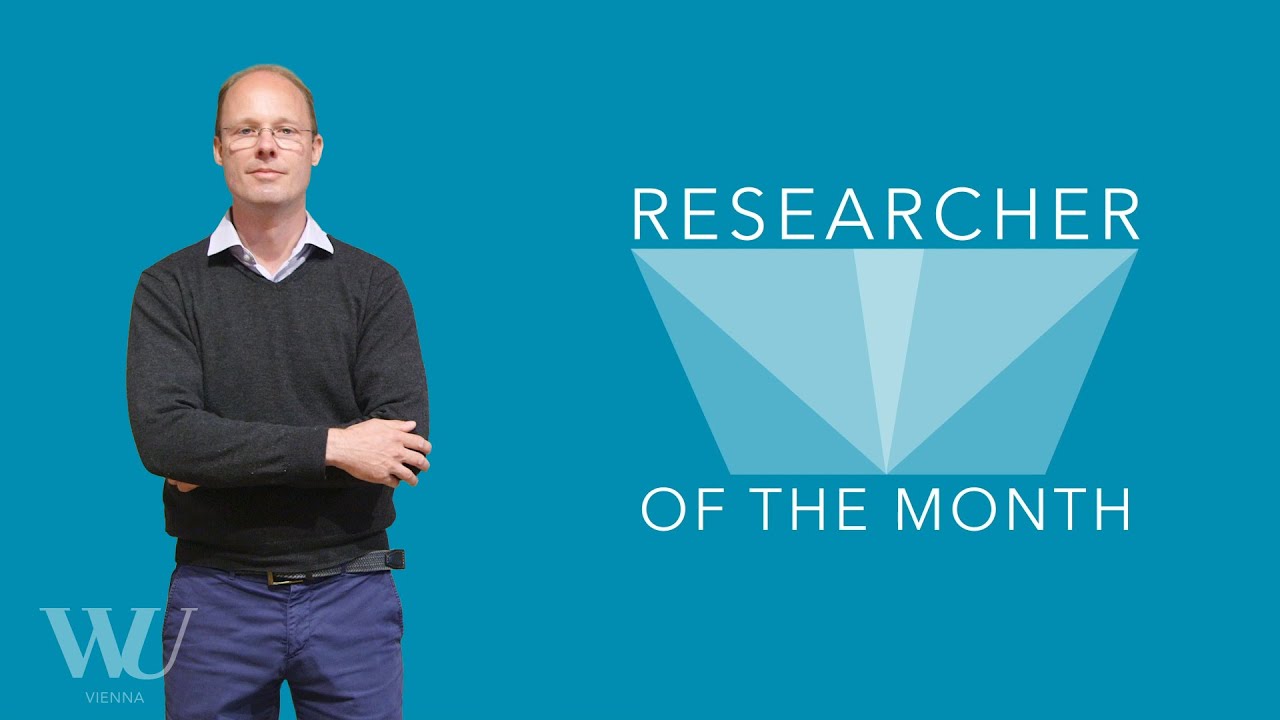 Marcel Bilger - Researcher Of The…
Publications
Weber D., Loichinger E. (2020), Live longer, retire later? Developments of healthy life expectancies and working life expectancies between age 50–59 and age 60–69 in Europe, European Journal of Aging

Weber, D., Scherbov, S. Prospects of activity limitations among older adults in 23 low and middle income countries. Sci Rep 10, 10442 (2020).

Spitzer S & Weber D (2019), Reporting biases in self-assessed physical and cognitive health status of older Europeans, PLOS One

Renner, AT. Inefficiencies in a healthcare system with a regulatory split of power: a spatial panel data analysis of avoidable hospitalisations in Austria. Eur J Health Econ (2019). https://doi.org/10.1007/s10198-019-01113-7

Spitzer S & Weber D (2019). Who is telling the truth? Biases in self-reported physical and cognitive health status of older Europeans. IIASA Working Paper. IIASA, Laxenburg, Austria: WP-19-002

Loichinger E., Weber D. (in print) "Combining working life and health expectancies" Chapter 18 in "International Handbook of Health Expectancy" (editors: Carol Jagger, Eileen M. Crimmins, Herman Van Oyen, Jean Marie Robine and Yasuhiko Saito)

Orawan Prasitsiriphon, Daniela Weber, Objective physical measures and their association with subjective functional limitations in a representative study population of older Thais, BMC Geriatrics

S. Dekhtyar, D. Weber, Helgertz, A. Herlitz, Sex differences in academic strengths contribute to gender segregation in education and occupation: A longitudinal examination of 167,776 individuals

Miraldo, M., Shaikh, M., Barrenho, E. Atun, R. et al. Funding for Malaria control 2006-2010: Assessing vertical and horizontal equity. Forthcoming BMJ Global Health

Gandjour, A. & Shaikh, M. Pharmaceutical expenditure and GDP: Evidence on simultaneous effects from an instrumental variable approach. Revise and Resubmit Health Economics

Sergei Scherbov and Daniela Weber, Future trends in the prevalence of severe activity limitations among older adults in Europe: a cross-national population study using EU-SILC

Shaikh, M. & Mueller, T. Your Retirement and My Behavior: Evidence on Intra-household Retirement Externalities from a Fuzzy RDD

Elke Loichinger, A. Goujon and Daniela Weber, (2016) Demographic Profile of the Arab Region: Realizing the Demographic Divided. E/ESCWA/SDD/2016/Technical Paper 3. Economic and Social Commission for Western Asia (ESCWA), Beirut, Lebanon

Daniela Weber, Serhiy Dekhtyar and Agneta Herlitz: "The Flynn effect in Europe – Effects of sex and Region"
Last visited Conferences
Daniela Weber, International Workshop on the Socio-Economics of Ageing 2019, Lisbon, Portugal, October, "Reporting biases in self-assessed physical and cognitive health status of older Europeans"

Anna-Theresa Renner, Research Visit, Bocconi University, Milan, Italy, September to October 2019, Centre for Research of Health and Social Care Management (CERGAS)

Daniela Weber, Vienna Health Care Lectures 2019, Vienna, Austria, September, Chair of a World Café table discussion

Anna-Theresa Renner, Conference of the European Regional Science Association (ERSA), Lyon, France, August 2019

Anna-Theresa Renner, Research Visit, Bocconi University, Milan, Italy, April to June 2019, Centre for Research of Health and Social Care Management (CERGAS)

Anna-Theresa Renner, 4th ATHEA Conference for Health Economics, Vienna, Austria, March, 2019

Daniela Weber, 4th ATHEA Conference for Health Economics, Vienna, Austria, March, 2019

Anna-Theresa Renner, Winterseminar organized by the German speaking section (GfR) of the European Regional Science Association (ERSA), Matrei, February 2019

Anna-Theresa Renner, European Regional Science Association, Cork, Ireland, August (titles of talks "Availability and spatial accessibility of outpatient healthcare - What are the effects on utilization?" at the Young Scientists Session, and "A Spatial Panel Data Analysis of Avoidable Hospitalisations in Austria" at an Ordinary Session
Mujaheed Shaikh, EuHEA Conference 2018, Maastricht, The Netherlands, July, (title of talks "Too sticky to switch? Retirement and health plan choices of the elderly" and "The impact of organizational change on firm efficiency: Evidence from the healthcare sector")

Anna-Theresa Renner, EuHEA Conference 2018, Maastricht, The Netherlands, July, (titles of talks "Availability and spatial accessibility of outpatient healthcare supply – what are the effects on utilization?" and "A Spatial Panel Data Analysis of Avoidable Hospitalisations in Austria")

Mujaheed Shaikh, European Economic Association Meeting, Germany, Cologne, August, (title of talk "The impact of organizational change on firm efficiency: Evidence from the healthcare sector")

Mujaheed Shaikh, American-European Health Economics Study Group, Harvard, Boston, USA, June (title of talk "The Impact of Organizational Change on Firm Efficiency: Evidence from the Healthcare Sector")

Anna-Theresa Renner, Nationalökonomischen Gesellschaft in Wien, Annual Meeting & 100th Anniversary of the Austrian Economic Association, May (title of talk "What are the Drivers of Regional Variations in Avoidable Hospitalisations in Austria? A Spatial Panel Data Analysis")

Mujaheed Shaikh, Regional Science Association International Conference, Goa, India, May (title of talk " Child Malnutrition in Uganda: Regional disparities and socio-economic inequalities").

Mujaheed Shaikh, Scottish Economic Society Annual Conference, Perth, Scotland, April 2018 (title of talk "The Impact of Organizational Change on Firm Efficiency: Evidence from the Healthcare Sector")

Mujaheed Shaikh, Invited presentation, Centre for Research on Health and Social Care Management, Bocconi University, Milan, Italy, March 2018 (title of talk "Too Sticky to Switch? Retirement and Health Plan choices of the elderly").

Anna-Theresa Renner, Winterseminar organized by the German speaking section (GfR) of the European Regional Science Association (ERSA), Igls/Innsbruck, February 2018

Anna-Theresa Renner and Mujaheed Shaikh, Austrian Health Economics Association, Vienna, November 2017

Anna-Theresa Renner, 28th IUSSP International Population Conference, Cape Town, South Africa, October/November 2017

Daniela Weber, 5th International Workshop on the Socio-Economics of Ageing, Lisbon, October 2017

Mujaheed Shaikh, 15ª Conferência Nacional de Economia da Saúde | APES, October 2017

Daniela Weber, Russian Presidential Academy of National Economy and Public Administration under the President of the Russian Federation (RANEPA) (Invited talk & stay) - organised by research group: International Laboratory on Demography and Human Capital, October 2017

Anna-Theresa Renner, 22nd Annual Conference of the Italian Health Economics Association (AIES), Pavia, Italy, October 2017

Daniela Weber, Jahrestagung der DGD und der Deutschen Statistischen Gesellschaft (DStatG), Rostock, September 2017

Anna-Theresa Renner and Mujaheed Shaikh, Jahrestagung des Vereins für Socialpolitik, Vienna, September 2017

Anna-Theresa Renner and Daniela Weber, Vienna Health Care Lectures, Vienna, September 2017

Daniela Weber, 6th Lindau Meeting on Economic Sciences, Lindau, August 2017

Anna-Theresa Renner, Summer School of the European Regional Science Association in Lesvos, Greece, July 2017

Mujaheed Shaikh, International Health Ecnomics Association Conference, Boston

Anna-Theresa Renner, Winter Seminar of the German Speaking Section of the European Regional Science Association in Spital am Pyhrn, February 2017

Anna-Theresa Renner, International Health Policy Conference at the London School of Economics, London, February 2017

Daniela Weber, 6. Berliner Demografie-Forum, Berlin, February 2017

Mujaheed Shaikh, Australian Health Economics Society Conference 2016, Perth, September 2016

Mujaheed Shaikh, Strategic Management Society Conference 2016, Berlin, September 2016