E&I Touchdown: An entrepreneurial mindset as a winning factor during the crisis
19/06/2020
Searching for new application fields for new technologies, accompanying the global rollout of an ideation management system, or identifying new KPIs for innovation in a company. These are only three of more than 30 innovation projects that the Institute for Entrepreneurship & Innovation at the Vienna University of Economics and Business has been working on this semester together with partners ranging from startups to multinational firms.
At the E&I Touchdown, all results were pitched by the student teams in only 45 seconds. Behind these pitches lie a whole semester of creativity, professional methods and a lot of passion. The best pitches were selected by a jury of experts and the audience and awarded during the ceremony.
In the category Best Pitch Bachelor the startup Artheca, which emerged from the E&I Garage, was selected by the jury. Artheca is a platform that caters artists and connects them to companies, businesses and organisations, interested in purchasing art.
In the category Best Pitch Master the expert jury selected the Master Garage team of AIthletics as the winning team. They developed an AI-based personal trainer application that tracks body postures with computer vision and gives recommendations for correct exercises execution.
More than 1000 people participated in the audience voting and with over a third of these votes, the pitch of Urban Monkey was selected as the winner of this category. They created a concept for a modern online shop experience for health conscious students, offering a broad range of raw and organic produced smoothies.
The E&I Touchdown this semester was also dedicated to the Corona crisis. In a panel discussion moderated by Helga Pattart-Drexler, Univ. Prof. Dr. Nikolaus Franke (Director of the Institute), H.E. Trevor Traina (Ambassador of the United States to Austria), Sandra Gott-Karlbauer (Managing Director of ÖBB TS) and Dejan Jovicevic (publisher of der brutkasten) shared their experiences of how to overcome the crisis with innovations. Prior to the event, a study was carried out which assessed the challenges and opportunities that Austrian companies are confronted with as a result of Covid-19. Ninety percent of the respondents reported that despite the challenges, they identified at least one new business opportunity, and more than one out of three managers stated that they identified many new business opportunities. Innovation and flexibility played a greater role than state support. Thus, having an entrepreneurial mindset was a winning factor during the crisis.
The institute was also affected by the pandemic, and in March had to change the entire teaching operation to distance learning within days. The fact that this challenge also brought new opportunities was demonstrated by the fact that, in cooperation with the brutkasten, for the first time the E&I Touchdown was organized as a digital event – with success. This event was generously sponsored by the WKO.
And the winners are ...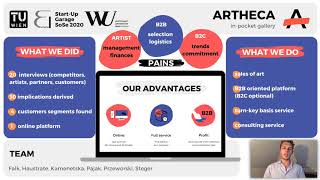 E&I Touchdown: Winner Video Jury…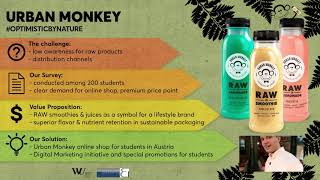 E&I Touchdown: Winner Video…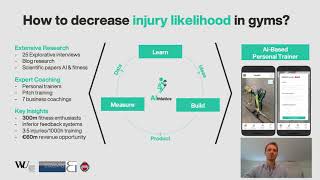 E&I Touchdown: Winner Video Jury…
Back to overview